While visiting New Day Dairy GuestBarn, enjoy the outdoors (and more!) in Charles City, Iowa! Located just 30 minutes North of the GuestBarn, you'll find this community that has much to offer! Check out the opportunities to enjoy the outdoors and beyond!
Charley Western Bike Trail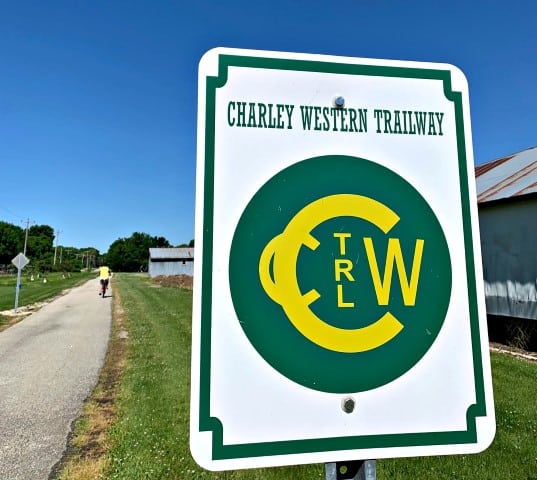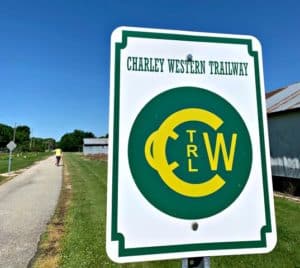 This bike trail is the perfect way to see the town! Located on an old railroad bed, this paved trail traverses roughly 5.5 miles. It is relatively flat and great for bikers of all levels. Parking at the Wildwood Park is a great place to start to enjoy this adventure. Make sure to note that there is roughly 50 blocks of the trail that travels along the city streets! Download the map from the Charles City Chamber of Commerce!
Love to bike?  Check out the Rolling Prairie Bike Trail while you're in the area!
After completing your loop, make sure to take a spin down on the Riverside trail, which takes you along the Cedar River and through the amazing Riverside Park!
Riverside Park & Activities
Take a walk on the walking bridge that connects the two sides of town without the traffic! It sits just east of downtown and spans the width of the river. Nearby you'll find this great wayfinding sign for Charles City.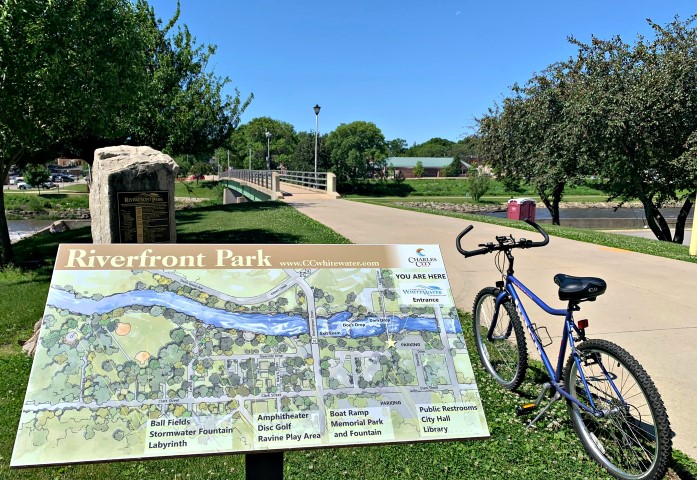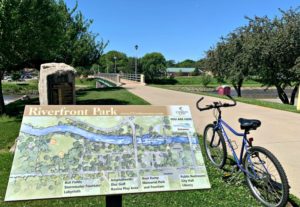 The Cedar River cuts Charles City in half and is a focal point of the community.  You'll find a disc golf course, the legendary cement slide, a paved walking trail, art sculptures, Labyrinth, natural amphitheater, and more along the river.  Enjoy all these items, plus a view of the river's White Water course, Iowa's first!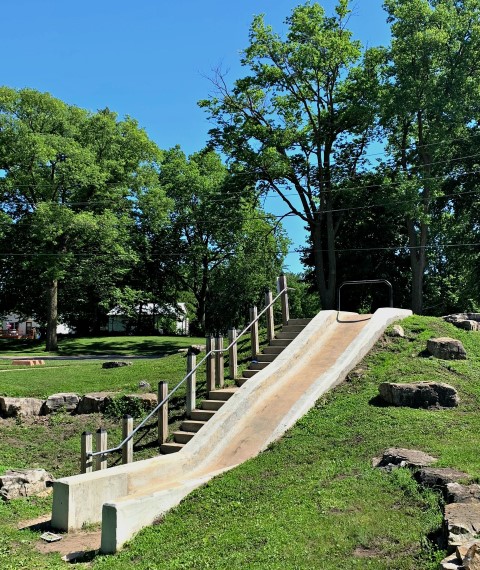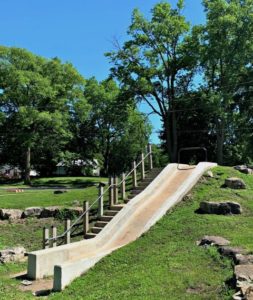 Iowa's First White Water Course
For those who love the water, head to Charles City to enjoy the White Water Course on the Cedar River! This kayaking and tubing course opened as Iowa's first white water course in 2011. Whether you're looking to enjoy the riskier rapids like Dam Drop or Doc's Drop or want to take the calmer routes around the rapids, you'll enjoy your time on the water! If you don't have kayaks/tubes or don't want to travel with them, Rapids End Outfitters located adjacent to the river can rent you all the equipment you need!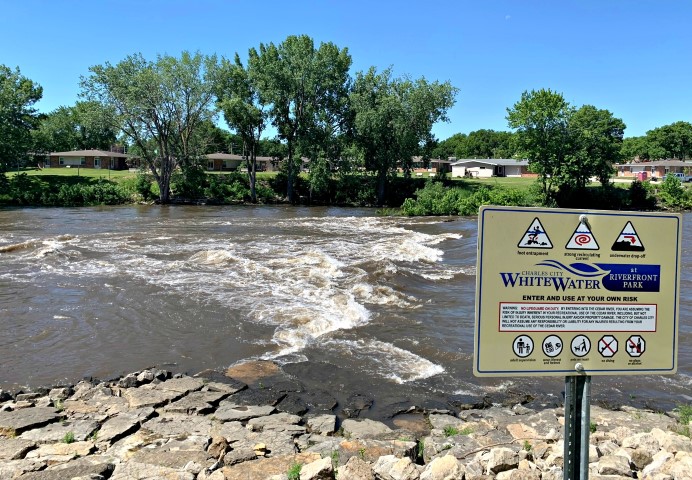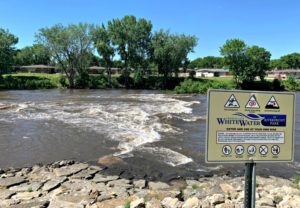 Art Walk
Whether you drive or walk, enjoy the Art Walk in downtown Charles City and along the Cedar River. Print off a map and check them off as you find each one!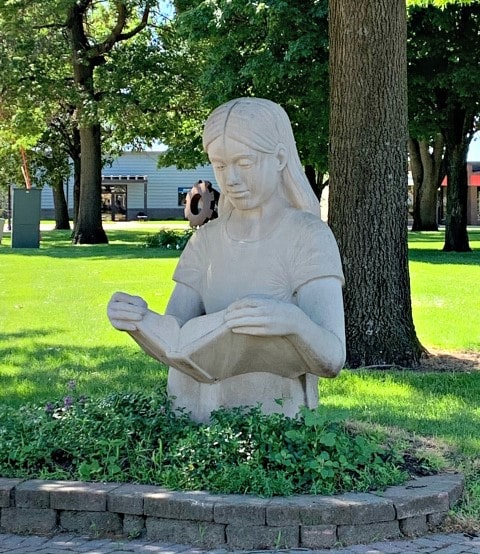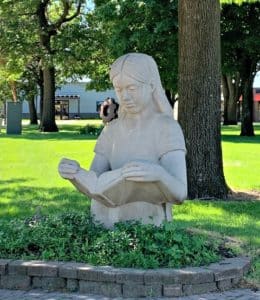 More Fun in Charles City
Still looking for more to do? Check out miniature golf and batting cages at Bayou Bend. Sportsman's Park located at the west end of 15th and 16th Avenues offer a baseball & softball field, tennis courts, basketball courts, a picnic shelter, restrooms, playground, and lots of wide-open green space for your family to burn off energy!
If you're traveling with man's best friend, make sure to check out the Charles City Dog Park, which offers two fenced in areas (one for small dogs and one for larger dogs) along with picnic shelters, public restrooms, and playground equipment.  Finally, head to Comet Bowl for a game of bowling or sand volleyball!
No trip to Charles City is complete without walking across the Suspension Bridge! This stunning bridge was originally constructed in 1906 and served great purpose for over a century! Unfortunately, the bridge was lost in the Iowa floods of 2008, but it was rebuilt in 2010!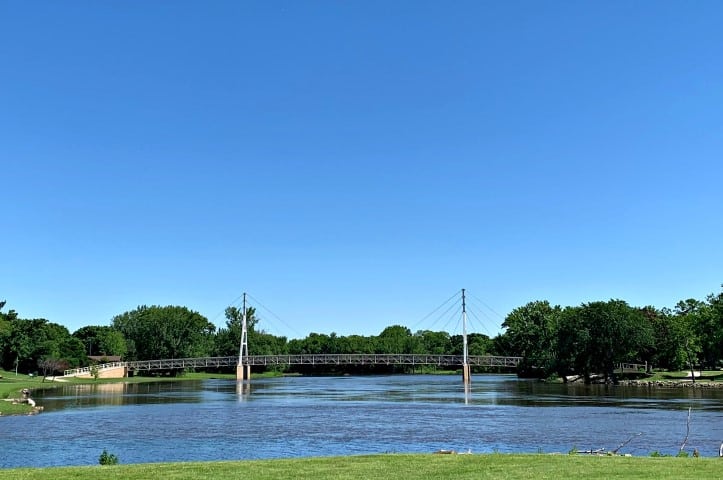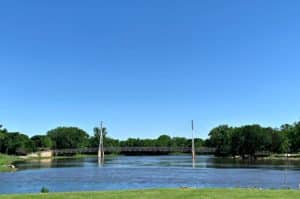 Good Eats in Charles City
Charles City offers several great spots to grab a meal or a drink! Hot Shots Billiards not only offers pool for its patrons, but also a delicious menu including appetizers, burgers, and sandwiches! The Pub on the Cedar is located right along the Cedar River and offers patio seating along with inside tables and chairs! Enjoy your meal of a sandwich, salad, pasta, and more while taking in the beautiful scenery!
Looking for a good cold brew? Head to Saint Charles Brewing Company which is a microbrewery just south of the Cedar River! They frequently have food trucks come in to enjoy alongside your brew or you can have a pizza delivered from Cedar River Pizza Co.
Visiting Charles City
Charles City is a diverse community with a lot to offer everyone! Whether you're looking for outdoor activities to enjoy during the warmer months or visiting in the winter, you'll find plenty to do! And since it's a short drive from the New Day Dairy GuestBarn, you'll have a cozy bed waiting for you when you return!
Want more Charles City goodness? Check out these posts for more info:
Visit Women's Suffrage Leader, Carrie Chapman Catt's Childhood home just south of Charles City on your way to or from the GuestBarn!
Charles City, IA: Restaurants, Shopping, & Culture