We enjoyed a beautiful Labor Day weekend Sunday exploring Carrie Lane Chapman Catt's childhood home.  It sits north of us about 15 miles and I've wanted to visit ever since we moved back to the area in 2011.  
Who is Carrie you may be asking?  At one point in life I probably would've asked the same thing.  Turns out I followed in her footsteps by both attending Iowa State University & becoming a member of Pi Beta Phi while there.  Through those experiences I learned that she was an instrumental leader in the women's suffrage movement (helping give women the right to vote).  And now my kids are growing up in the same neighborhood she did!
For the past few years they've hosted an apple picking festival that we'd planned on going to but since our area had a late frost this spring there wasn't quite enough apples for an entire festival.  We still got to a pick apples anyway!  #DairymanDan had a lot of fun using the fun apple picker!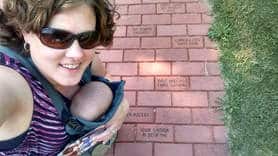 With the Iowa Gamma Pi Beta Phi brick!
A favorite story from Carrie's early life is that you'd often find her sitting in the crook of a tree branch reading, which comes as no surprise considering all that she went on to accomplish – attending college at the now Iowa State University and then studying law and of course all of her work in the women's suffrage movement and in the final years of her life working for peace in a variety of ways.  
It's hard to accomplish all those things without being an avid reader, which is one of the reasons that the sorority that both Carrie & I were a part of in college, Pi Beta Phi, champions literacy – it truly is the key to so much in life!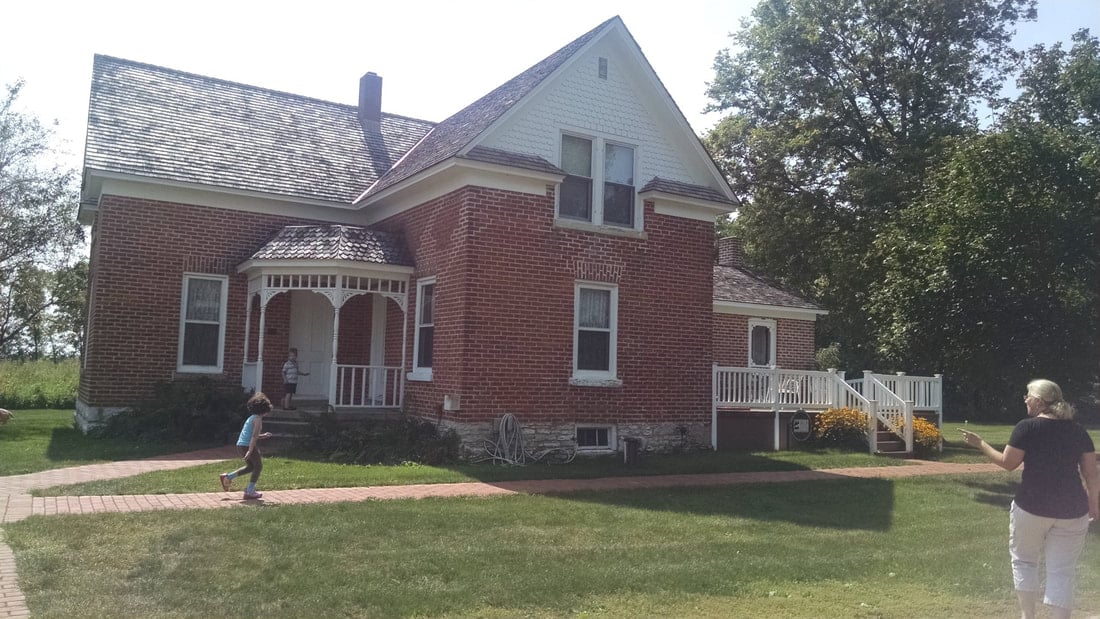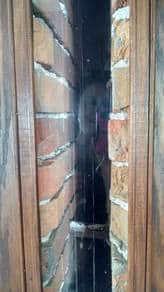 Carrie's childhood home & the chance to share her legacy was almost lost before a local woman championed saving the home that was in bad disrepair.  Incredibly they numbered & took off each brick to clean it and then rebuilt the exterior brick walls of the house besides other repairs & improvements.  It's a double brick wall house, meaning brick inside & out, check it out to the left!
Inside her home the walls share an incredible timeline story of Carrie's life paired with the historical events happening simultaneously.  It's a great reminder of where we've come from!  Artifacts from Carrie's life & early prairie days are also displayed throughout the house.
| | |
| --- | --- |
| Across the yard from Carrie's house is a new interpretive center that houses an office, a small gift shop selection, more information about Carrie's life, and my kids' favorites – the prairie dress up clothes & HUGE touch screen table (is there another name for that?).  Had they been a little older & less fascinated with just touching, touching, touching, the biggest touch screen ever, we could've learned even more from the little quizzes and interactive options within the touch screen.   | |
Finishing out a visit to Carrie's home involved a stroll through the restored natural prairie just behind her home.  We were blessed to have such a beautiful day to picnic before our tour & stroll the prairie path after. 
Carrie's home is open from Memorial Day Weekend to Labor Day Weekend: Monday through Saturday from 10am-4pm and Sunday from 12-4pm.  It's totally staffed by volunteers & is donation only to visit, which totally amazes me!  The folks who are part of sharing Carrie's story truly care about letting the next generation know how women had to fight for the right to vote!  
Make plans to visit Carrie's home while in North Iowa as well stopping by to take a tour of our farm!
Where are your favorite places to visit in North Iowa?