Do you have a club or committee that wants a unique space to host their next meeting? What about a unique family gathering? Maybe it's a Girls Night Out with the cows?
Rent ONLY the common spaces of the GuestBarn, which includes the fully-equipped kitchen, dining area, and the cow gazing loft. We can seat around 20 people although not all at one table.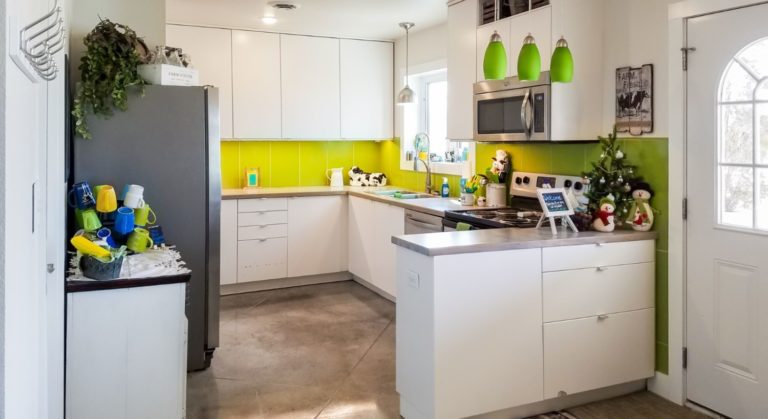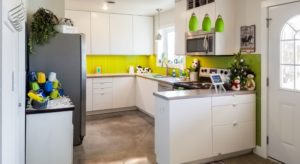 Your rental includes a ½ hour "Window" tour presentation to help answer your questions & curiosity about the cows. If you'd rather see the cows up close, upgrade to a Barn Tour for your group. Cow Gazing is available during your entire rental!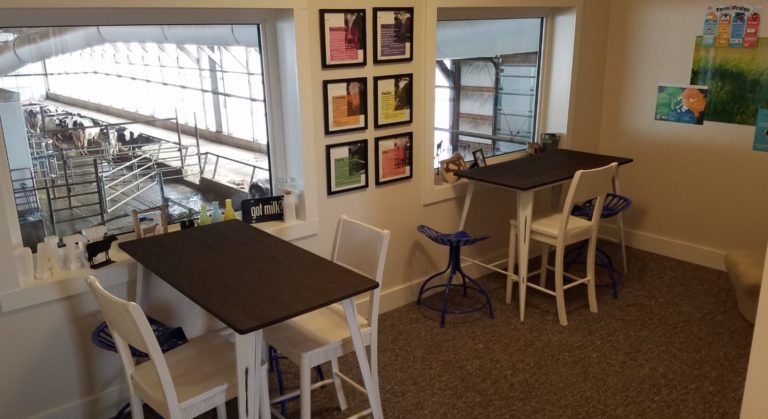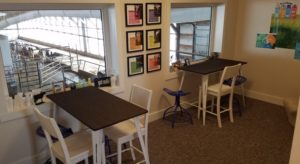 Tours:
ALL Rentals include a 30-Minute "Window" Tour, where Dan or Lynn will join your event to share about the cows & answer yours questions! This is included in your total rental time.  If you'd like to get up close to the cows, schedule a

Barn Tour

for your group!

If you'd like to add on a

Barn Tour

for your group we suggest adding it at the end of your 2 hour rental if renting in the middle of the day to maximize your time.  If all of your belongs are out of the GuestBarn (allowing potential guests to arrive), an additional Barn Tour does not cut into your 2 hour rental.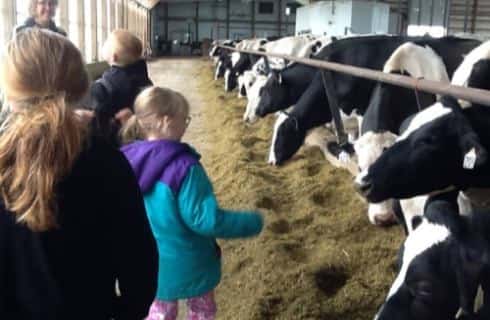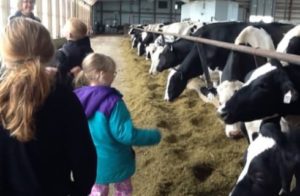 Capacity:
We can seat around 20 people at a time spread out between the dining room table, the cows gazing loft pub tables, and an additional small loft table. Depending on the season and the weather some of your guests can enjoy the patio & garden area, seating an additional 8-12 people.

If you need to have your entire club or committee gathered around a single table, please expect that no more than 10-12 will SQUEEZE around the dining room table or the loft tables when placed together.

We advise keeping your overall gathering under 30 people, understanding that they will NOT all be able to gather in one location (for shower gift opening for example).

Shower Gift Opening could be accomplished if some guests are willing to look down from the loft or stairs into the dining room space.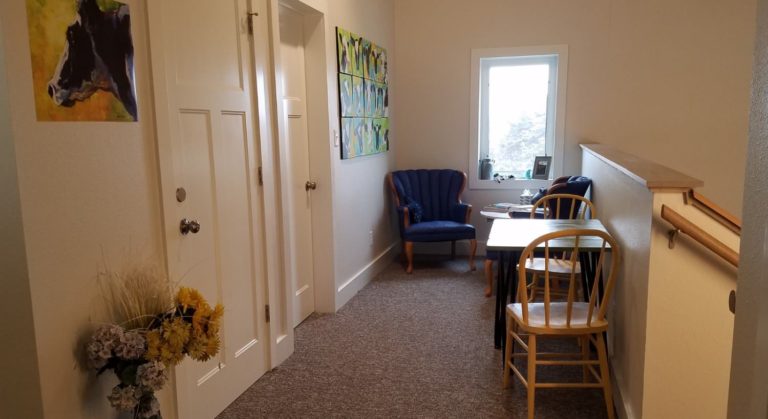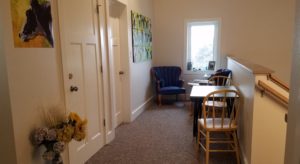 Pricing:
Weekdays between 11:30a-2:30pm: $100 for a 2.5 hour slot between these hours
We reserve the right to quietly be in the space changing over guest rooms during this time if necessary.
Sundays between 11:30a-2:30pm: $125 for a 2.5 hour slot between these hours
We reserve the right to quietly be in the space changing over guest rooms during this time if necessary.
Daytime Hours typically NOT available on Saturday
Sunday-Thursday Evenings – anytime after 3pm until midnight: $200
Friday-Saturday Evenings – anytime after 3pm until midnight: $300
50% of the Rental Fee is Due at the time of reservation to hold the room with the remainder being due the day before your event.
We take cash, check, or credit card payments.
Deposit Fee: $100 ($200 if alcohol will be present) – will be returned if no damages or excessive cleaning is necessary.
** Recurring Meeting or Club?  Ask us about discounts!
** Last minute plans?  Contact us about booking less than 7 days in advance for discounts!
The GuestBarn's atmosphere is welcoming and homey and uniquely it's own so we don't think you'll want to add much.  If you do, bring a few table centerpieces to accent your event!

We do NOT allow you to attach anything to the wall or surfaces.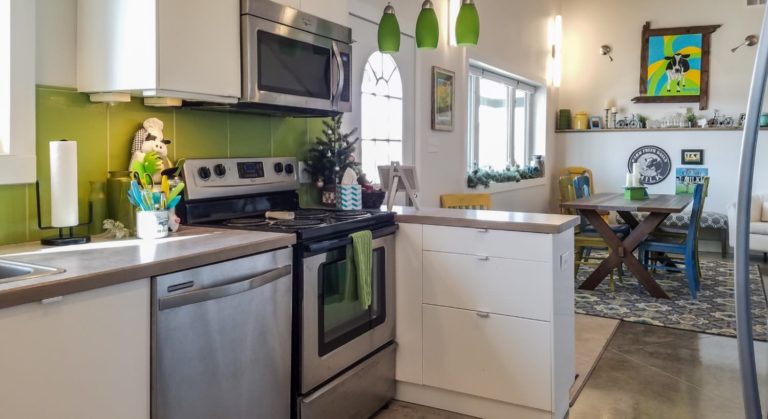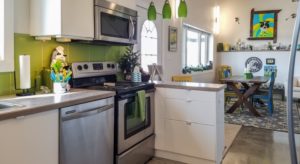 Events:
New Day Dairy's GuestBarn is a great place to host:
Baptisms

Birthday Parties

Small Bridal or Baby Showers

Direct Sales Parties (LuLaRoe, Pampered Chef, Sentsy, etc)

Family Reunions or Holiday Gathering

Group Luncheons

Small Graduation Open Houses

Meetings – Business, Ladies Club, etc.

Rehearsal Dinners (for Weddings)

and more… just ask!
To Rent the GuestBarn Common Spaces:
Fill out this

Inquiry Form

to see if your date is available.

We will get back to you within 24-28 hours to confirm availability and send you a rental agreement and invoice.

Fill our & sign rental agreement and pay deposit & 50% down payment.
Catering or Bring Your Own Food:
All food & beverage is to be provided by or arranged the renter.  You can supply your own or have your event catered by an outside vendor.
A few local caters we suggest are:
The kitchen is stocked with:
Counter Space
Dishwasher
Refrigerator with Ice Maker
Sink
Coffee Maker
Hot Water Kettle
Unique Coffee Mugs
Dinnerware
Serving Platters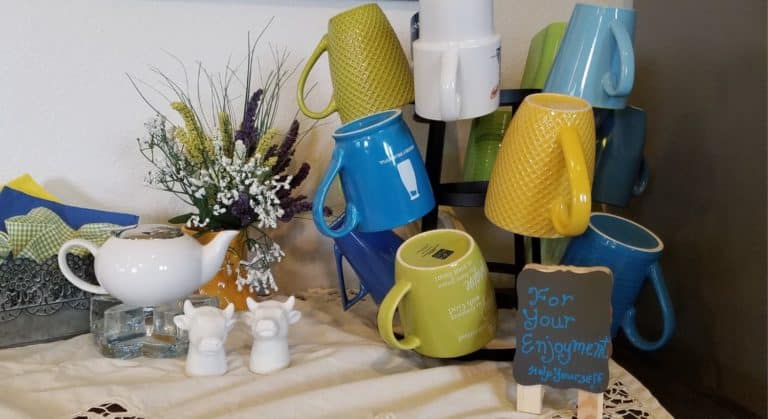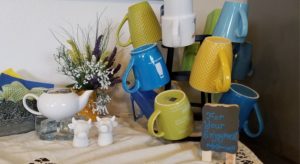 Business Meetings:
We have fast fiber optic Wi-Fi available for your business meeting (or recreational) needs.  We will caution you that AT&T does NOT get very good reception at our location.
Direct Sales Parties:
Don't want to clean your house to host a party?  Want a few extra people to come because they want to see the cows at the same time? Host your direct sales part at the GuestBarn!
Bonus: If you're party includes trying things on (like LuLaRoe) request the bedrooms to be opened as changing rooms ($5/room).
Pricing:
Ask about discounts for:

Consultants that commit to hosting multiple parties
Using party credits for product for half of your rental fee.
Fill out an Inquiry Form Today!