Visiting New Day Dairy's GuestBarn is just the beginning of your trip to Butler County, Iowa. We have a lot of things to do and the Rolling Prairie Bike Trail is a great way to explore the area.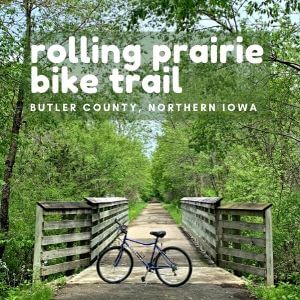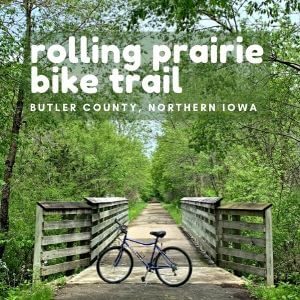 Trail Difficulty & Conditions of the Rolling Prairie Trail
The Rolling Prairie Bike Trail is a great to explore if you are new to biking or are bringing your family along. This completely paved trail (yes, you read that correctly, completely paved) is relatively flat and easy to pedal. Slight change in elevation gives variety as well as the changing scenery of farm ground to the old rail bed. The trail provides a good amount of shade so it's still relatively comfortable on hot days.
The distance between towns is another appeal of the Rolling Prairie Trail. Bristow to Allison about 6.5, Allison to Clarksville is the longest stretch at 7.3 miles and Clarksville to Shell Rock is 6.5.
If you decided to travel the entire trail from West to East you'll be at about 20 miles. Because of its length and ease to ride, you can easily ride the entire trail in one day or decide to pick one leg and explore the towns.
Location of the Rolling Prairie Trail
The Rolling Prairie Bike Trail runs the entire span of Butler County from East to West just North of US Highway 3. Did you know that you can find the Rolling Prairie Trail via a Google Maps search? Just make sure to pick one of the following cities to ensure you find the right one!  And note that the map markers are not necessarily in the trailhead locations.
There are several spots that you can jump on the trail, some of which are more primitive than others, but easily accessible. There are trailheads in Bristow, Allison, Clarksville, and just outside Shell Rock. Each town offers something different when it comes to the trailhead.
Bristow – This trailhead has limited parking, but easily accessible to parks and other areas in town!  There are no public restrooms at this trailhead, so make sure to visit one before taking off! Find this trailhead just south of Railroad St on West St.
Allison – There are a couple places you can jump on the trail.

Located just a few blocks East of downtown on Elm St (just north of Railroad Ave and the Butler County Fairgrounds) is one trail head with a few parking spaces and maps.
If you need restrooms and more parking, we recommend taking off from Wilder Park which is just East of Allison. They offer modern restrooms and lots of parking plus a shelter if you'd like to have a picnic and a pond for fishing! The trail has a small spur that connects this park to the bike trail.

Clarksville – Clarksville also offers 2 different spots to hop on or off the trail.

Just a few blocks south on Main St from Superior head west on Jefferson St. (there is a Bike Trail sign here), you'll find a few parking spots just as you cross the railroad tracks at the end of the road.
Otherwise, take a ride on the Heery Woods State Park loop to scope out the park, use restrooms, or even park your vehicle or be picked up by your ride.
Shell Rock – the trail head is located just a quarter mile north of Highway 3 (on T63 or N Public Road across from the Shell Rock Hay Auction) as it runs through Shell Rock. There is limited parking and no restrooms, but some are close-by at a convenience store!

The bike trail section between Clarksville & Shell Rock is winding & shaded for most of the trail making is a favorite few miles for bikers – especially with kids!

Want to continue your biking adventure?  From Shell Rock you can ride along the paved Hwy 3 shoulder into Waverly.  Decide to enjoy downtown by riding on Hwy 3 to catch the bike trail by Sub City or turn early on 10th St and go over the river on Cedar River Pkwy to catch the bike trail to Readlyn.
Local Amenities near Rolling Prairie Trail
You'll explore true rural Iowa along the Rolling Prairie Bike Trail since the communities along the trail are quaint (we don't have a stoplight in all of Butler County!).  But don't miss all they have to offer!
In Dumont, hop off the trail and visit Outlaws Bar & Grill for a cold brew or a burger! Grab a pizza at the Community Bowl Bar & Grill. You'll also find a playground at the end of Main Street if the kiddos need a change of pace.
Bristow is a great place to cool off after riding for a while as they offer a free community splash pad and The Bristow Ice Cream Shack, which is known around the area for their cold treats!
Allison offers a variety store (if you have any needs along the way), a grocery store, and convenience store! Plus, you'll find quite an extensive playground at their school and at Wilder Park.
In Clarksville, you have a couple options for a tasty meal like Doc's Tap, Pete & Shorty's, or Lizzy Lou's Diner. Grab a tenderloin, fries, or a burger at any of these to refuel you!  Clarksville also has a community splashpad and playground to enjoy. Along with a convenience store you'll find a Dollar General in case you need anything during your visit to the area.
Shell Rock offers a couple different places to grab some grub like the Riverview Café or our personal favorite, The Shell Rock Scoop! The Scoop offers up ice cream from a small Iowa dairy, WW Homestead Dairy! Grab one of their delicious flavors of hard scoop ice cream or a shake, malt, or sundae!
Keep in mind that you'll have to bike on city streets & cross Hwy 3 to find The Shell Rock Scoop or Riverview Cafe in downtown Shell Rock. You'll cross the Shell Rock River and the dam while riding through town to The Scoop.
Things to Keep in Mind while riding the Rolling Prairie Bike Trail
There are a few things to keep in mind while enjoying and traveling along the Rolling Prairie Bike Trail.
Keep in mind where the restrooms are along the trail.
Be polite while traveling on the trail. Keep trail etiquette in mind. If you're traveling with several bikers, make sure to move over and allow others to pass if necessary!
There are a few bridges that have signs that say "Walk Bike Across Bridge", please make sure to obey these!
Watch for car & truck traffic. You are traveling through a rural area and there are many places where the trail crosses a gravel road. Make sure to slow down and look for traffic before crossing.
In Clarksville, you travel on city streets and along a county blacktop for a little more than a mile before being able to hop back on the path. This is a great opportunity to take a break and grab a bite to eat or play at the splashpad!  The county blacktop (C33) does have a paved shoulder specifically for bicycles until the trail starts south again.
If you're looking for a short trip, only 1 mile south of the GuestBarn the bike trail crosses Vail Ave, where locals park their car on the gravel road and hop on the trail. Its about 5 miles from there to Shell Rock, where you can grab ice cream at The Shell Rock Scoop before returning back.
Being only a mile north of the trail means that if you're brave enough to bike on the mile or so of gravel you don't need to drive anywhere to jump on the trail!  We've got bike-in bike-out accommodations for you!
Bike the Rolling Prairie Bike Trail
Guests have told us how much they enjoy the bike trail and we hope you too can explore it during your stay to the GuestBarn! It's a great way to stretch your legs, enjoy the scenery, and spend some time enjoying the Iowa countryside!