Located East of New Day Dairy GuestBarn just 20 minutes, you'll find the collegiate town of Waverly! Home to Wartburg College Waverly is a booming community!
Outdoor Fun in Waverly, Iowa
Waverly is perfect for those who love the outdoors! Situated along the Cedar River, you can enjoy boating, kayaking, and tubing! If you don't want to travel with all your gear, don't worry! CrawDaddy Outdoors has everything you can think of to make your trip successful…for rent! Canoes, Kayaks, paddles, dry packs, fishing kayaks, and more are available to rent by the day, weekend, or week! And, they are conveniently located in downtown Waverly, just 2 blocks from the river! (Psssst… you'll enjoy Waverly's Main Street district!)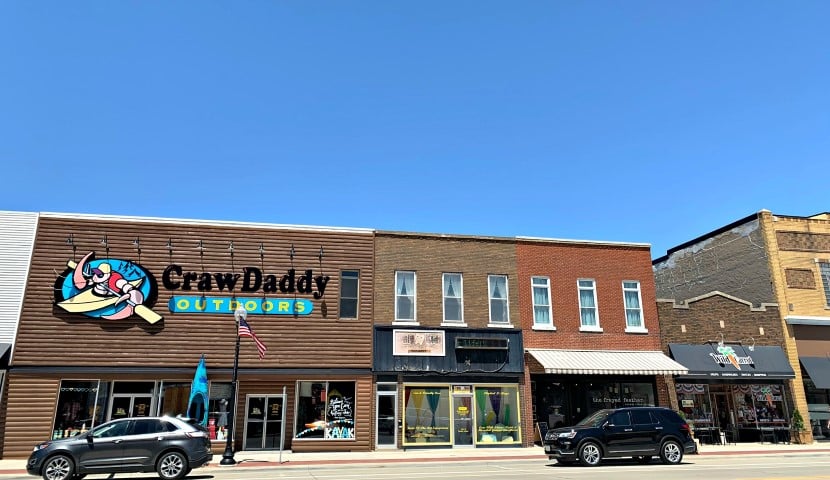 The City of Waverly also offers over 20 different parks that offer a variety of playground equipment, shelters, a beautiful and artfully created bandshell, and more! Brookwood Park offers disc golf. Fishing is also very popular here! In Kohlmann Park (along the Cedar River), you'll find a play unit, swings, a paved trail, shelter houses, restrooms, fishing, and more!
Memorial Park is centrally located in Waverly and is home to their swimming pool, restrooms, picnic shelters, concession stands, and Kid's Kingdom, which is a large wooden play unit, a favorite of our guests & our local friends!
Ride the Rail Trail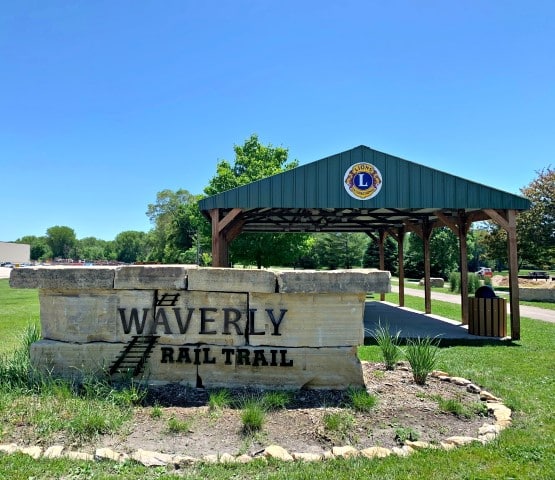 Ready to take your bike for a spin? We recommend heading to Waverly and jumping on the Waverly Rail Trail. This paved trail not only is a beautiful and short trip out and back across the countryside (7 miles to the junction), it also connects to the Denver Jefferson Trail and the Readlyn Grump Trail!
The trailhead is located in Waverly right behind a Kwik Start which offers modern restrooms to use before or after using the trail! There is parking available at both the Kwik Star and at the trailhead right behind it. You'll also find a shelter to use to have a picnic if you so choose!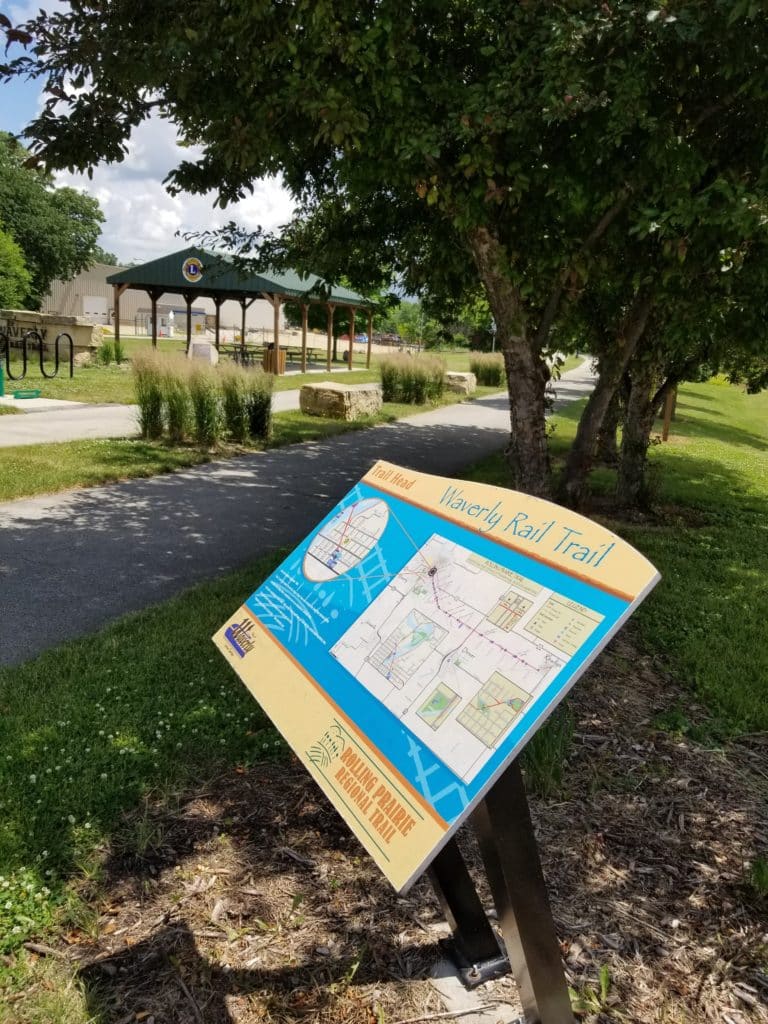 Heading East out of town, the trail takes you across fields and prairies, under roads, over bridges, and through tunnels. It's quite a fun ride and fairly easy! There are a few small hills, but nothing that isn't manageable. You'll even find porta potties along the route and benches to take a rest on!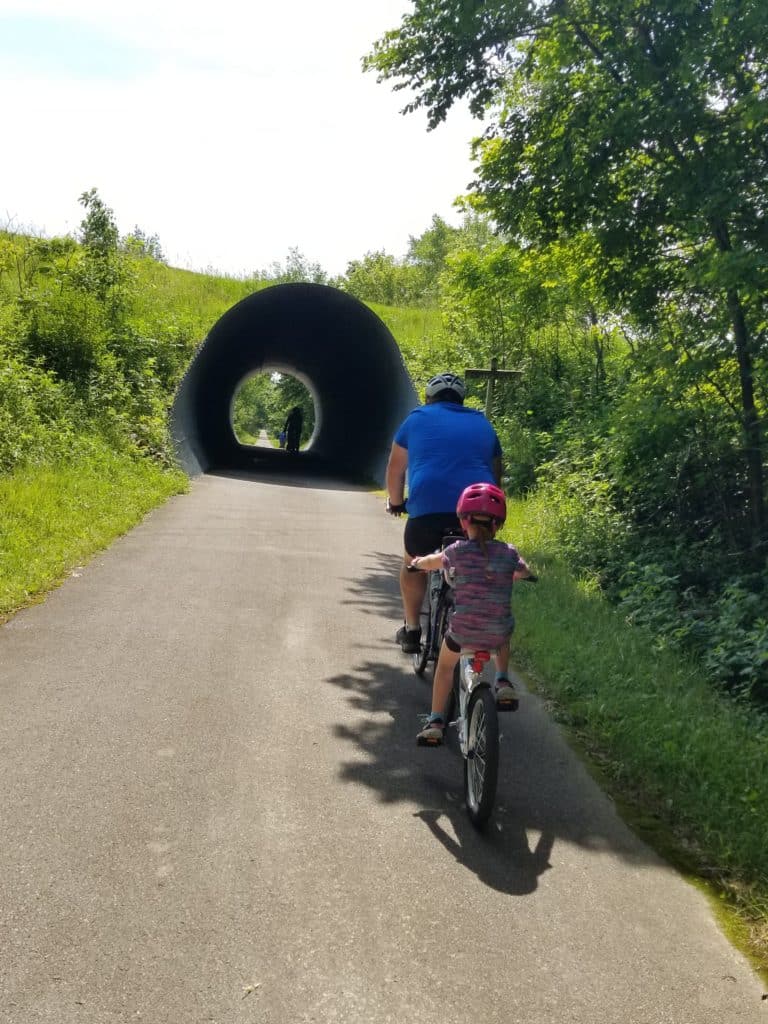 Once you return to town, head across the main drag through town (Bremer Ave) and cross the Cedar River on a stunning bridge before coming upon the Nestle factory! From there you can continue on the "bike trail" which takes you on city streets, but does loop through several parts of town!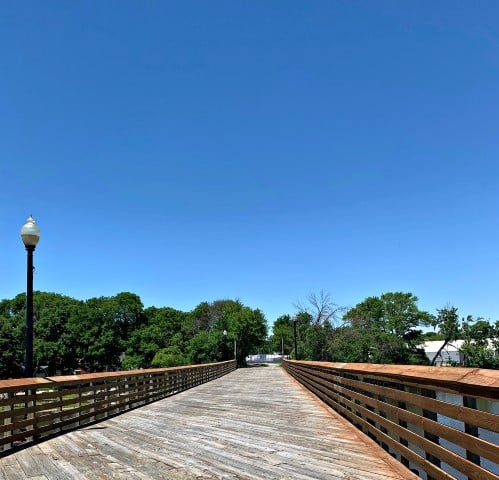 Eating in Waverly
Waverly offers several different delicious options to choose from when it's time to eat! There are several chain restaurants, but also a great variety of locally owned establishments as well!
Places like Sub City (located right on the bike trail) is a local icon serving up fresh sub sandwiches out of the historic depot! Baked goods from The Mixing Bowl are the perfect sweet treat after your ride or to take home for later! If you need to cool off, head across the river to 4 Queens Ice Cream!
If you need a heartier meal, head to the TaPatio Mexican Grill (with a great outdoor patio), the Other Place, or East Bremer Diner, which features beef from our dairy friends at Hansen's Dairy in Hudson! Regardless of where you decide to take in your well-deserved meal, we know you'll enjoy it!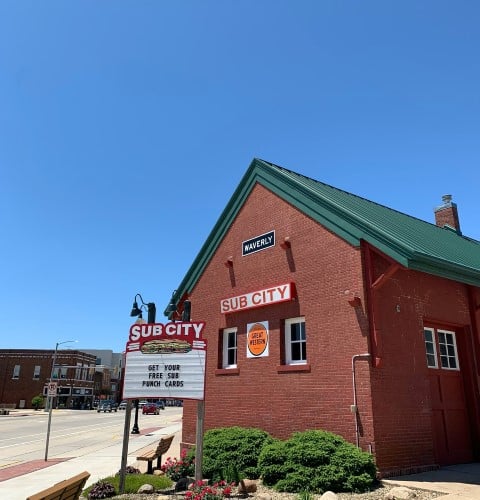 Enjoying Waverly
While you're staying with us at the New Day Dairy Guest Barn, we want you to experience the area and that means heading a little East to Waverly! There is a lot of fun to be had in this community complete with parks, a bike trail, delicious restaurants, a great main street, and more! We know you'll enjoy your trip to Waverly!