Reserve our SunShine Room, and head to our one-of-a-kind vacation spot in the Midwest for your next getaway.
No matter which room(s) you choose you'll have the entire GuestBarn to yourself, allowing you to relax and unwind with the cows and people you choose.
The SunShine Room is located on the first floor of our Iowa farmstay and shares a wall with the barn. The room features two twin XL beds (perfect for the kids!!) than can also become a comfy king-size bed if you're enjoying the guest barn as couples.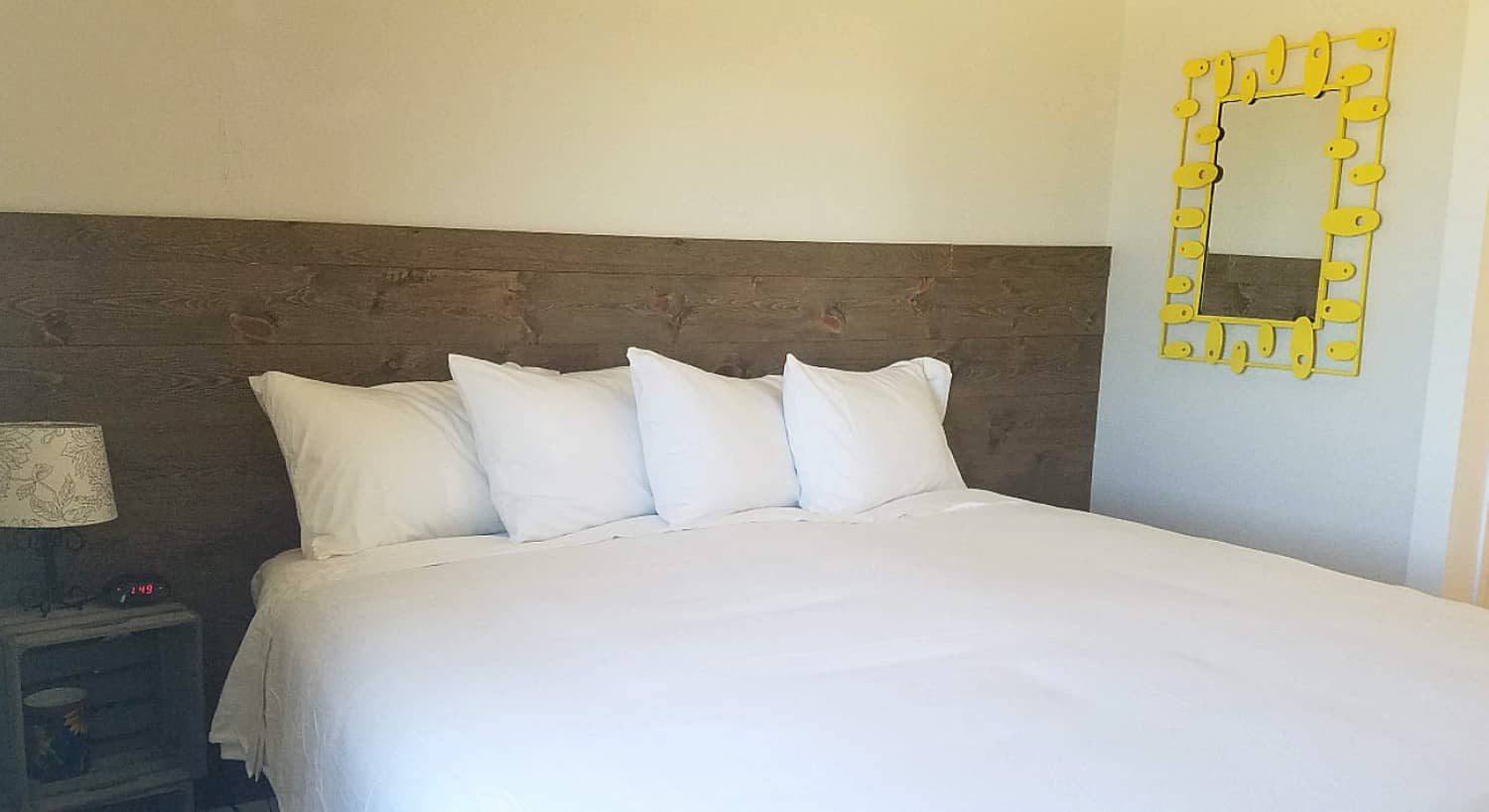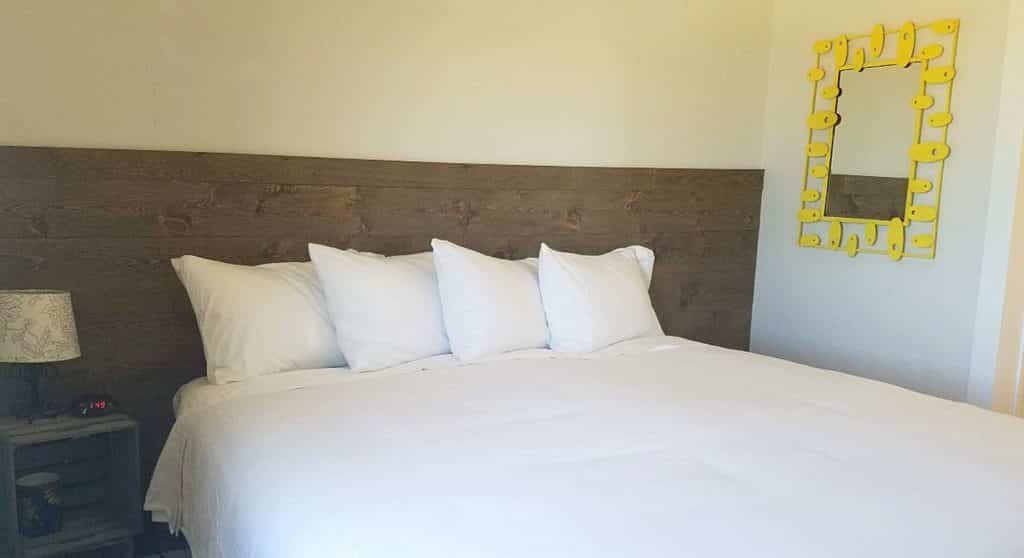 The attached private bathroom has a walk-in shower for easier accessibility. This bathroom can also be accessed from the main space as well if unlocked by occupying guests (especially helpful when staying with a larger group).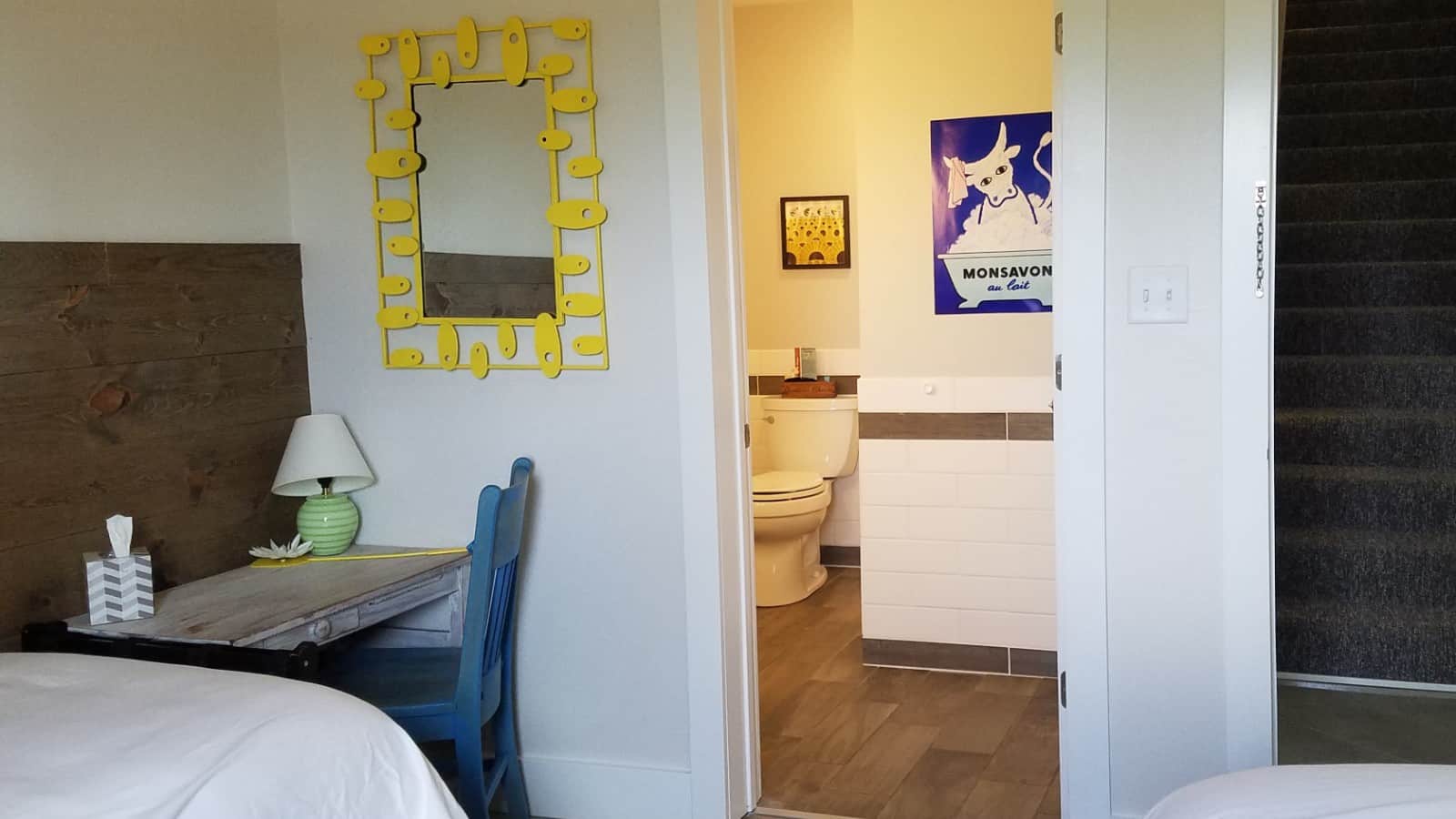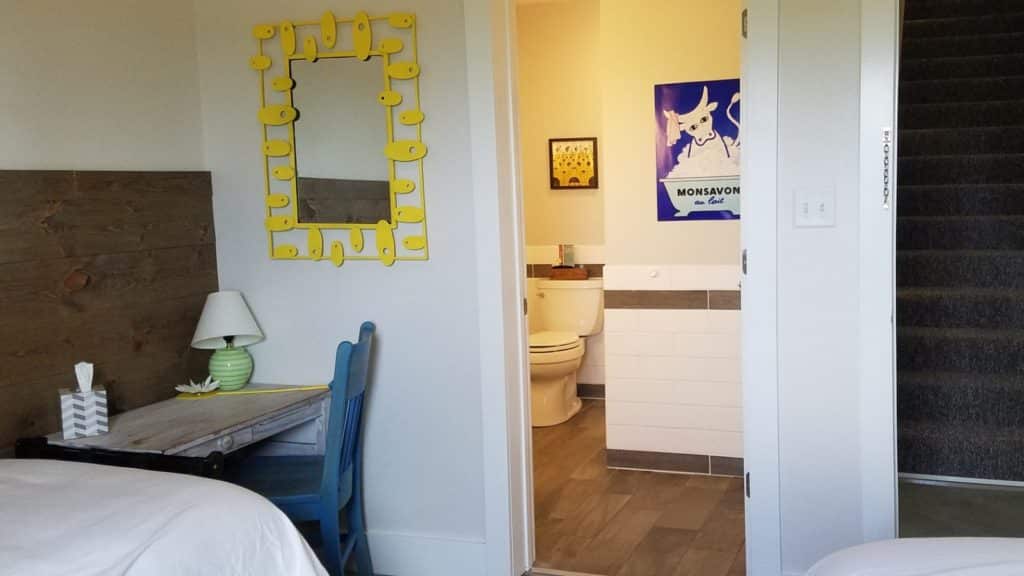 Wake up to the handmade SunShine quilt in this room to start your day off right. Because the SunShine Room shares a wall with the barn every once in a while you may hear the cows, assuring you that you are truly sleeping with the cows!
** Tip: If you hear the cows moooo-ing it likely means one is in labor – so be sure to check the loft windows if you want to see a calf being born!
A small desk provides additional tabletop space to jot a note, get some work done, or a secondary place to put on make-up.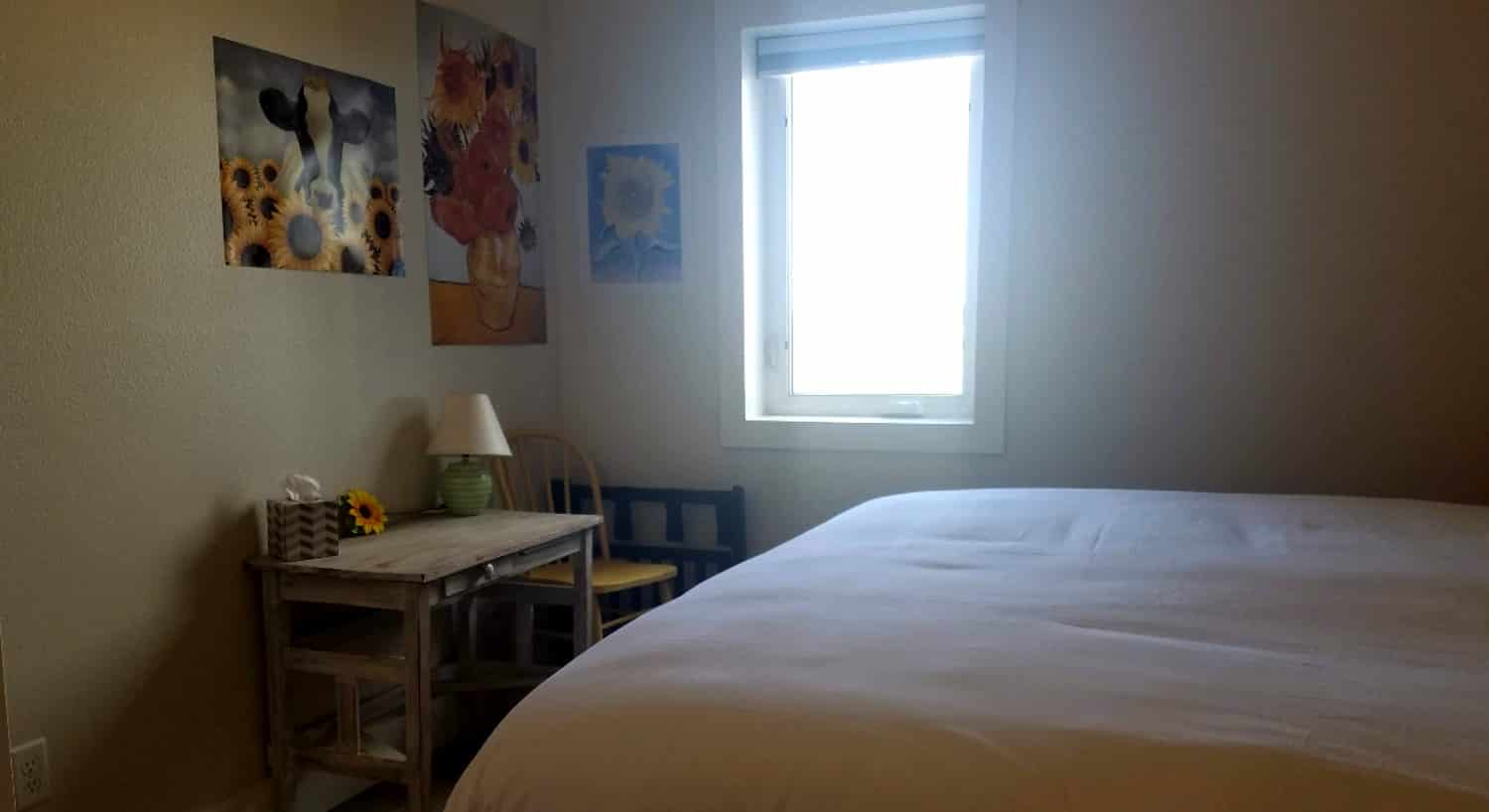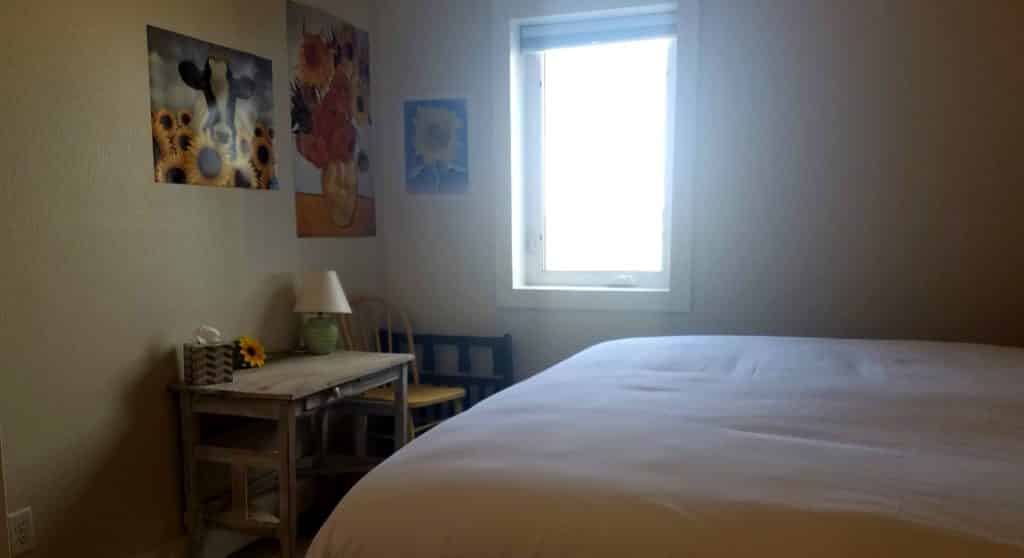 Artwork here echoes the Sunflowers seen out the windows in the late summer.
Like all of our rooms, the SunShine Room's amenities include a variety of pillows, great linens, a ceiling fan, black-out shades, free Wi-Fi, cow's milk soap, shampoo, a grab bar near the shower, and a hair dryer & alarm clock.
Have more questions about sleeping with the cows? Check our FAQs to see if they've already been answered!  Or see what our past guests have to say about coming to #sleepwiththecows!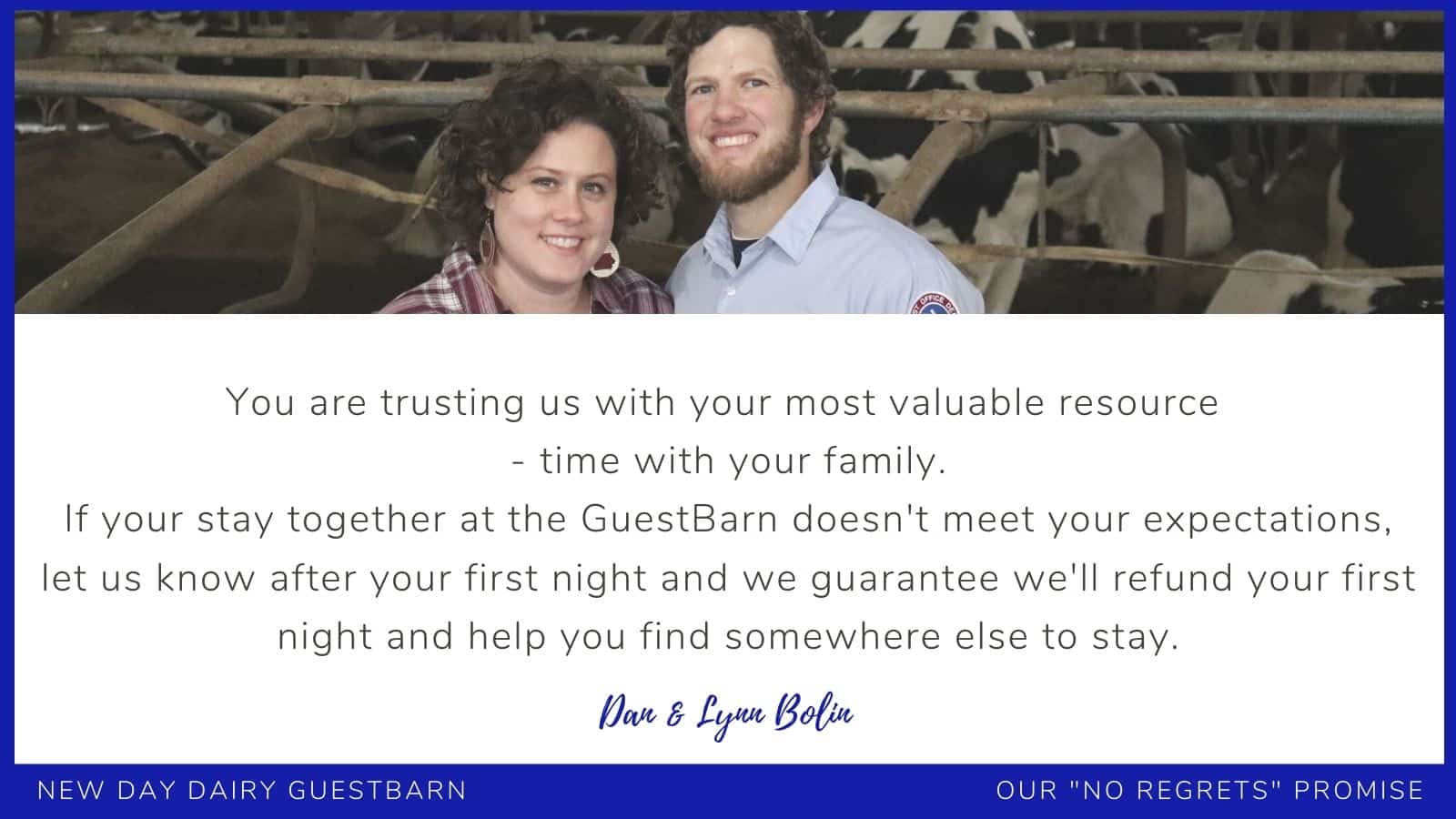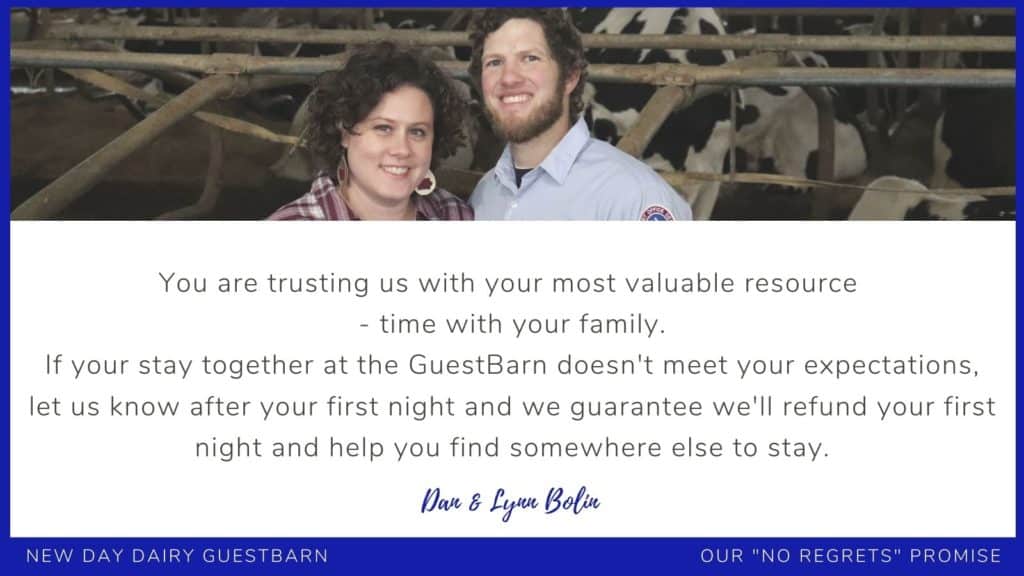 Room Occupancy: 2 people (of any age since you'll be renting the Entire GuestBarn anyway.)
If you would specifically like this room please note it in the "special accommodations" section when booking.
Enjoy your time away by spending 2 or more nights sleeping with the cows, you'll save with each additional night. Explore the great outdoors, other animal encounters, museums, local restaurants & ice cream shops, and spend more time with the cows by adding our Exclusive "Be A Dairy Farmer Challenge" Hands-On Tour.
---
The highlight of the GuestBarn is a loft perched high above the barn with two window overlooking the cows—letting you experience the barn with none of the smell. We brought puzzles which we worked on at the tables in front of the windows while our kids played with the puzzles, games, and toy barn nearby. Every morning we enjoyed the complimentary breakfast and especially the yogurt. We chose to do the add-on tour and it was great to get to talk to the farmers more and the highlight was our four-year-old handing feed to the calves. ~ Neil, Des Moines, Iowa