It just so happens that as dairy farmers we not only love our cows we also love all the delicious foods they give us!  Really if you think about it it's pretty amazing what can be made from milk… cheese, yogurt, cream cheese, ice cream, cottage cheese, sour cream, cheese (I guess I already said that but there's SO many options I had to say it again!), butter, and of course, a cold glass of milk, and many, many others, not to mention all the variations on the above!
To switch it up a bit every so often I'm going to start sharing some of our household's favorite recipes that include yummy dairy products!  Some will be long-standing family traditions, some new discoveries, and some menu mainstays, and all delicious!
** Warning:  I'm not a food blogger…. So far I rarely remember to take a picture of the finished product let alone the whole process so you'll just have to imagine each step!  I will give you some of my personal pointers & tips though! 
First up is a new recipe to our family!  My sister-in-law is a Pampered Chef consultant & over the years I've fallen in love their kitchen products!  During a recent Facebook party this recipe popped  up and I knew we had to try it!  To make a long story short I came to own this amazingly beautiful LARGE round stone and my fridge just happened to be filled with cream cheese (this recipe's secret dairy ingredient!) and eggs, perfect for this brunch pizza! 
I'm a pretty basic simple cook… not a lot of fancy ingredients around our house.  But I do also like to start with real foods that aren't packaged or processed as much since they're both cheaper & better for you.  So most recipes get a little tweaking!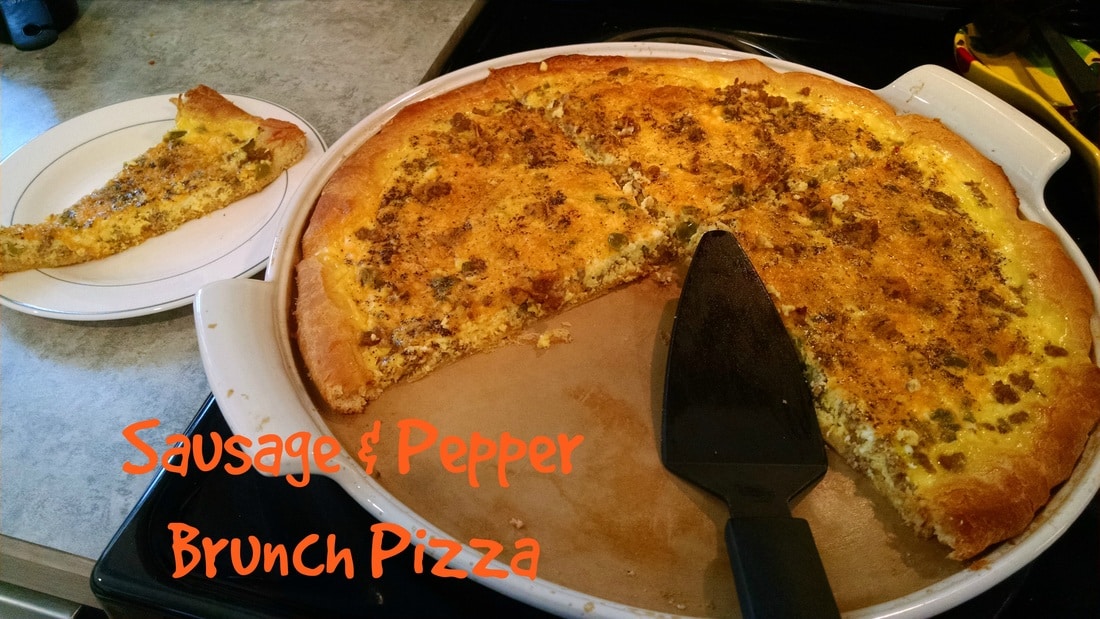 For this I recipe I browned the sausage on the stove & then added some frozen peppers – I use frozen green peppers in all sorts of things!  Next it took a few rounds in the microwave to smooth out the cream cheese & then we added farm fresh eggs from some friends, although we use store bought all the time too!
The trickiest part was cutting the biscuits horizontally – I used a big serrated bread knife.  Honestly I rarely use pre-made refrigerated biscuits but it did make this recipe go faster & they are yummy!  I used my super awesome Pampered Chef roller to squish the biscuits all together but I think a glass or your fingers would work just as well!
Then all that's left is sprinkling, pouring, a little more sprinkling.  Now let's talk cheese for a moment.  The original recipe called for provolone cheese but I'm not sure I've ever had provolone cheese in our house, so we used boring (and so delicious) ol' cheddar!  Next it was stuck it in the oven and of course waited for it to come out!  We'll be making it again for sure!