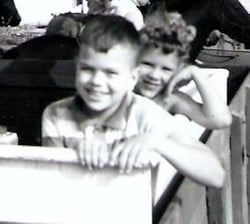 Growing up neighbors, Dave & Pam on a trail ride.
A New Day. Welcome to New Day Dairy, or I should say the beginnings of New Day Dairy. We haven't actually milked a cow yet but we have plenty of blueprints, forms, meeting notes, e-mails, and phone calls. A dairy farm doesn't just happen by accident, that's for sure, so we've been working hard to get everything prepared. Although intensive planning started almost 2 years ago, the foundation has been being built for years.

A new day is preceded by many other days that both influence it and form a foundation for what that new day holds. Although a new day can hold promises of change, renewal, and progress, the foundation and influencers of past days is most always evident. So it is with New Day Dairy. We're so grateful that we have a strong foundation upon which we are building!

Dan's great-great grandfather George Washington Bolin left Illinios in 1890 and headed west to Iowa, not in pursuit of better land but in pursuit of Dan's great-great grandmother, Margret Ann (Hickle) Bolin. He settled in a small valley near Beaver Creek just outside of Clarksville and they began raising a family on their small farm.

Throughout most of the first 70 plus years our farm was like most small family farms of the time, growing some crops & putting up hay to feed the animals that consisted of chickens, pigs, cows, and, of course, some horses to do the grunt work. Farming the land and caring for our animals has always been a way of life in our family, until it almost came to an end.

  When Dan's dad, Dave, was only 13 years old, his grandfather decided it was time he took a job off the farm and became the postmaster in Clarksville. They still had a few cows but Grandpa Neil had decided that before winter they would need to sell them too; it was just too much to do anymore. Thankfully Dan's Aunt Sandy overheard Grandpa Neil & Grandma Mavis discussing that they would sell the cows and told Dave, who proceeded to tell his dad and mom that he would like to milk the cows. So at 13 years old, he took on the responsibility for milking & managing the cows on the farm.

While he was still going to school, he'd get up early to milk the cows before school and then milk again in the evening. After graduation he planned to stay on the farm, but a professor convinced him to attend Iowa State University, only a week before classes started. Mavis and his sister Barb were crucial in continuing to manage the farm and milk the cows while Dave was a college man, yet still coming home every weekend of course!

Four years later he'd managed to both convince his professors to give him a Dairy Science degree and convince Dan's mom, Pam (who was actually the neighbor girl), to marry him! They headed back Beaver Creek Farm to a new barn, constructed that winter, to continue their farming career.

Today that "new" barn is over 35 years old and although still chugging away and getting the job done, needs a lot of repairs and remodels to be able to fully meet the needs of the cows into the future. And 125 years ago, building in the valley near a creek was a good idea, but today when we're more concerned about water quality and planning & building for the next 125 years, building on a near by hilltop plateau, that overlooks the current farm, makes more sense.

New Day Dairy wouldn't be possible without the foundation that has been built the past 125 years. We're so grateful for the heritage of hard work, strong values, faith, perseverance, and love that we're now able to build on.