"Buy Local."  "Buy direct from the farmer."  "Whatever you do, don't buy from Walmart."
This is what we've been hearing on the street, social media, and more as Walmart's vertical integration of milk has made ripples & waves among dairy farmers and consumers.  
That means we get the question – "Where can I buy your milk?"  But the real question that's being asked is "How can I support farmers, especially family farms?"
For the few farms that both milk the cows & bottle the milk right there on their farm, you can buy milk at their farm stand and sometimes in the local grocery story.  And if that works for you, it's great for you & for that local farmer.
But honestly that might not be the way a lot of us shop.  I understand, I'm a busy mom and can't stop at every little farm stand.  I've got a schedule and it's full – I just need to pick up all of our food for the week during my once a week grocery shopping trip.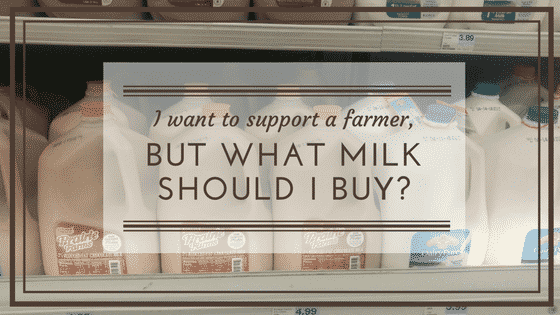 So where then can you buy the milk that our cows make so you can support our family's farm?  
Well, since we don't bottle our own milk or have the expertise to turn it into cheese or ice cream or cream cheese, we've joined with other family farmers and together have hired folks who are experts in those areas to take the milk from our cows and get it to your local grocery store shelf (or restaurant or school as lots of food ends up there too!).  
We're part of Prairie Farms as members owners.  After #DairymanDan feeds & cares for our cows & Rita the robot milks them, Luke, our milk truck driver comes & picks up the milk and usually brings it (along with milk from other neighboring farms) to a cheese plant in Luana to be made into Swiss Cheese & Cream Cheese. 
But I'm grabbing a gallon of milk, not Swiss cheese…
Yes, that's right but if you're picking up a gallon of Prairie Farms milk it means it's made from milk that comes from our friend Jason's cows, for example.  He lives nearer the plant that bottles Prairie Farms milk in Dubuque so his milk truck driver usually takes his milk to that plant.  Since we work together you're helping us both (along with all the other family farms that are part of Prairie Farms).  It doesn't matter if you buy a gallon of Prairie Farms milk (or their many other products) or a block of Swiss Valley Cheese (which isn't Prairie Farms branded but is made by Prairie Farms).   
Throughout the United States there are many dairy farmer owned cooperatives that sell products in your local grocery store, sometimes branded the same as their cooperative name sometimes branded differently.  Do you know other dairy cooperatives in other areas of the country?  What brand should you look for in the store near you to help those dairy farmers?
Some other brands, like A&E or Blue Bunny (and even Great Value Walmart milk) here in Iowa, are milk processors that buy milk from individual dairy farmers and although they have contracts, unfortunately if A&E or Blue Bunny decides they don't need the milk that a farmer produces they can not renew the contract & stop buying that farmers' milk.  When dairy farmers own the cooperative, that can't happen because the dairy farmers & the board they elect are in control.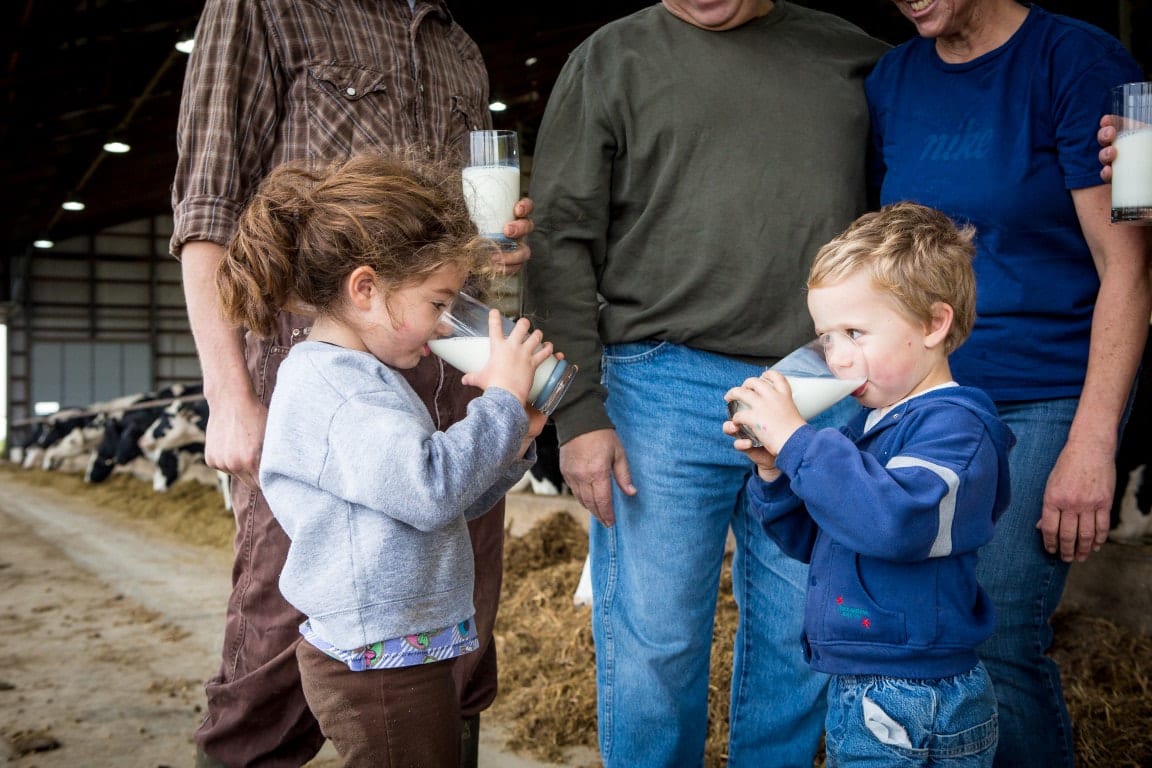 No, we don't normally stand in the barn & drink milk… but during a photo shoot you do all sorts of strange things!

Is there anything else I can do?
The most important thing is to eat dairy foods!  In reality 97% of dairy farms are family owned & ultimately even that Great Value Walmart milk likely comes from a family dairy farm.  To support our family specifically, buy Prairie Farms products whenever you can!
If you just want to make sure that you're buying local milk and milk products you can check the number on the package and if it starts with a "19" it means it was packaged & made into cheese or butter or some other dairy product at a plant in Iowa!   At "Where is my milk from?" you can even enter that plant number & find out specifically where it was packaged!
One more way to help is to donate to the Great American Milk Drive who donates milk to your local food pantry.  If you shop at Hy-Vee in the Midwest just tell the cashier to add an extra gallon to your bill when you check out! 
Thanks for caring about family farms & making choices with your wallet.  It's easy to pick up the loss leader $1.48 gallon of milk (I know because I'm so tempted too!) & if buying that means your family can enjoy more dairy products than go ahead & grab it.  But we, as Prairie Farms farmers owners, would love for you to enjoy Prairie Farms products & support us in the process!  Thank you!
P.S.  If you want to know more about how we're part of a dairy cooperative check out this post!