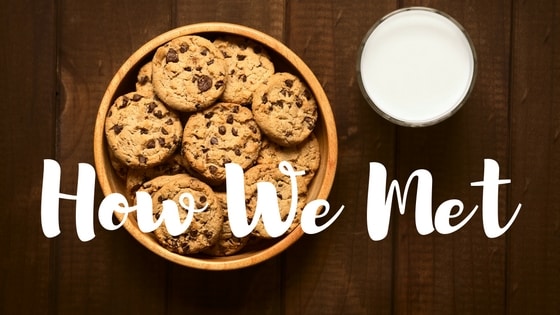 On July 22 we celebrated 10 years of marriage which is an amazing accomplishment, although not quite as impressive as Dan's grandparents who celebrated 65 years and 60 years of marriage this year!  We have a long way to go! 
Today, 10 years later, we're together living, breathing, and sleeping (or not sleeping) dairy farming.  And while that hasn't always been the case we have always shared a love of milk including the fateful day we first met…
 
We both attended Iowa State University in Ames, Iowa and were part of a fraternity & sorority.  Our lives were quite far from what Hollywood would have you think college life in frat house is like and in fact the night we met Lynn happened to be attending a Bible study at Dan's fraternity.  As the night got started it was probably long after supper time and I was thirsty so I asked if I could grab a glass of milk from the kitchen and of course no one minded.  I headed to the kitchen filled up my cup and rejoined the Bible Study paying no attention to what else happened to be going on in the kitchen.  
When I got back though I was transported back to Jr. High as Dan's fraternity brothers began teasing me… "You're going to marry D-Bo because you both like milk…ha ha ha"  and on and on they went.  Up to this point, to my knowledge, I hadn't met Dan, or D-Bo as his fraternity brothers called him, and so this all seemed rather childish and I noted that we should get back to our Bible Study.  
What I didn't know & hadn't observed was that Dan had actually been in the kitchen when I grabbed my glass of milk baking cookies for a Bake Sale at his church.    When he'd finished baking he had some extra and being the amazing guy he is, he decided to offer our Bible Study a few, so in he came… 
As he came around the corner everyone started snickering in my direction and noting "Here comes D-Bo…" And it just so happened, I suppose because I'd gone to grab that glass of milk, that I was sitting just inside the door so I was the first one D-Bo offered cookies to.  
So, what's going through my head since he walked in and the snickering started?  "Ok, who put him up to this?  Did I miss someone leaving & telling him it would be funny to offer some cookies to me because I like milk? This is silly…."  And you know what?  I couldn't even eat a cookie!  I'd given up sweets for Lent…
 
I'm sure my face was bright red as the jokes continued as he offered everyone else cookies & then headed back to the kitchen.  Because although I didn't know it then, it turns out that Dan's just a great guy who wanted to offer us all cookies since he had a few extra.   I was embarrassed and did feel a bit like I was in Jr. High but I suppose the jokes & snickering did the trick because my curiosity & interest was pricked and I began noticing this D-Bo guy a bit more…. 
The rest of the story?  You mean you want to know what happened next?  Well from then on it's a pretty normal story.  We crossed paths here & there, hung out at Sonshine Music Festival LINK where we happened to be camping in the same large group of friends, and eventually the next fall in 2003 starting seriously dating.
(So, I went in search of one of these pictures & couldn't resist including them all… enjoy!)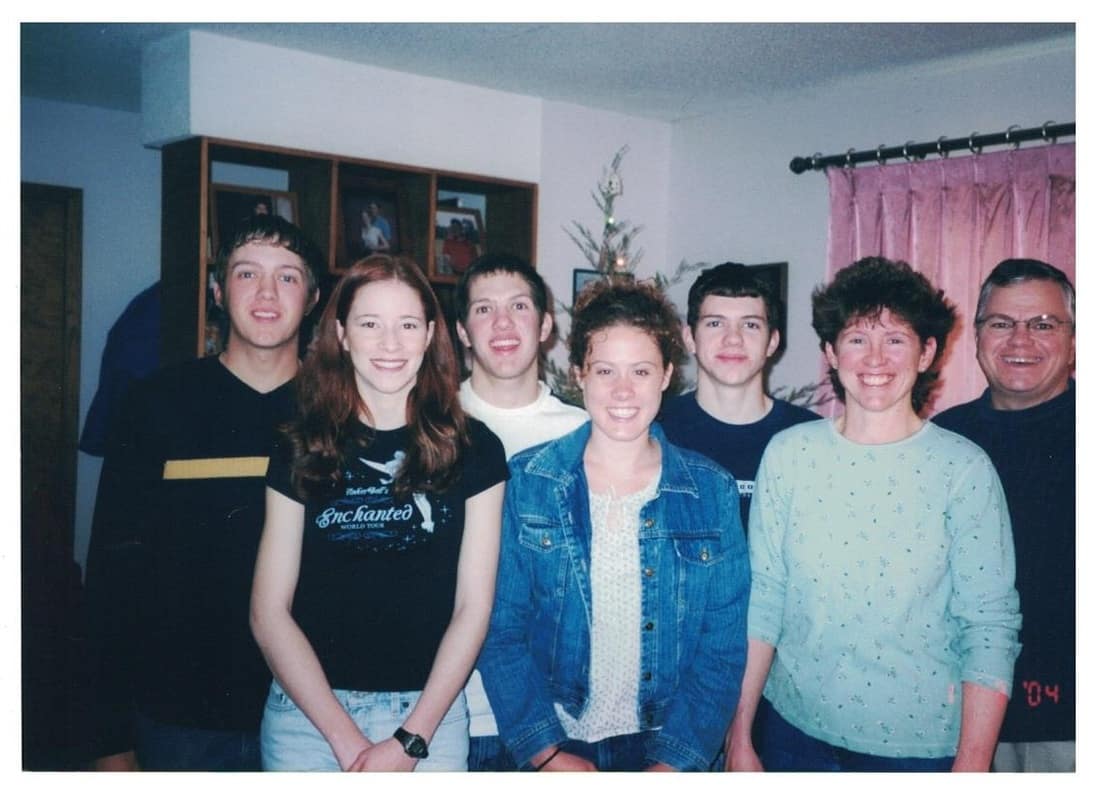 And by Christmas we were dating and I was even included in the center of the family photo. (Notice that Dan is fully smiling, like he normally does in photos, now that we're finally actually dating… I think he relaxed a bit more once it was official!)
And finally on July 22, 2006 we were married and honestly we didn't have a farm wedding at all… I think the only way you would've known Dan was from a dairy farm a picture included with 20 others at each table.  We didn't have any old cool old milk cans (like the wedding we went to a few weekends ago!) or other references to cows or the farm.  Barely a hint that one day we'd end up back here on the farm enjoying glasses of milk together.   
On our Honeymoon thought we did stop at Flayvors of Cook Farm for lunch
and of course some ice cream!
What's your story of how you met?