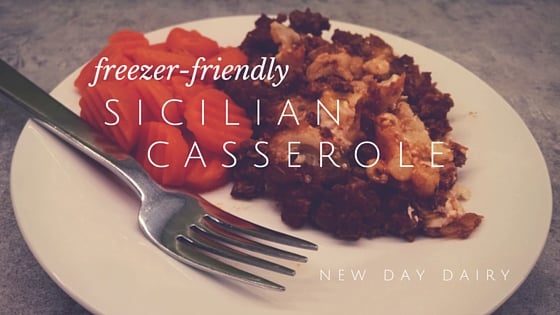 Happy June Dairy Month!  This month couldn't pass without another amazing dairy recipe!  This one tops the list for so many reasons… it's packed with dairy (sour cream, cream cheese, milk, and Parmesan cheese!), it's perfect for making two at a time and freezing one for later (score!), and of course, it's delicious!
It's not a one-pot wonder but it is a two big pan wonder!  In all these pictures I'm doubling the original recipe so I can freeze one for later.  So let's started…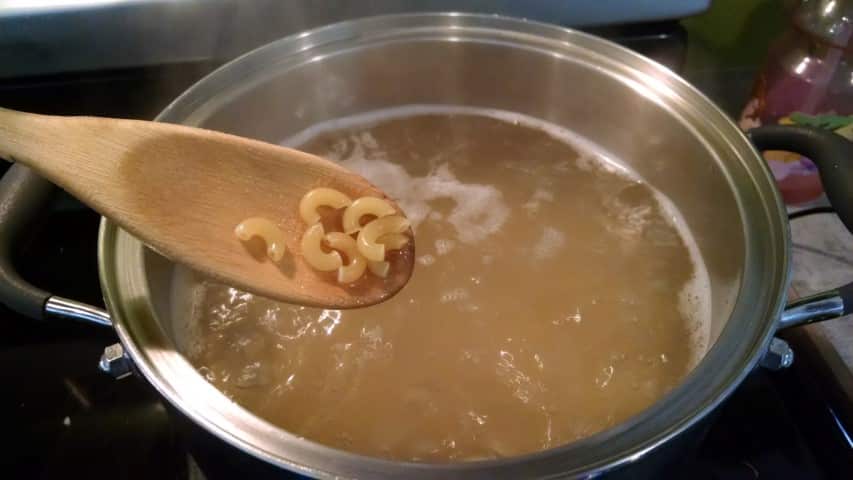 First things first… heat up that oven to 350 degrees and start boiling some water to cook those noodles however your package says (or just taste a noodle like I do!).   Helpful hint:  use a BIG pan… it'll be helpful later!
Next, chop up the onion to toss in the pan.  See that handy-dandy chopper? It has saved me many tears, onion tears, that is.  I LOVE my chopper!  Then press some garlic into the onion pan. 
At this point if Dairyman Dan walks by the window (because he's probably not in the house but in the barn or outside) he'd says something like, "Yum, that smells delicious!"  To which I'd reply, "Of course it's onions & garlic, they always smell good!"
Now toss in your ground beef and mash it up.  If you're like me, you'll be excited to use your Mix N Chop, which is perfect for browning ground beef… I can't believe I use to fight partial frozen ground beef with a spatula!  When the beef is almost brown toss in the green peppers.  Since mine were frozen I just eye-balled how much to put in.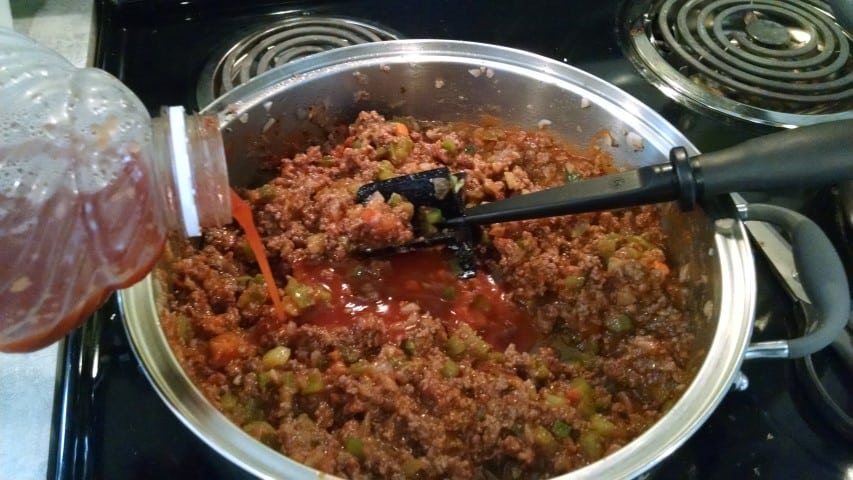 No here's where I deviated a bit more from the original recipe.  I had some tomato juice so instead of tomato sauce, tomato paste, and water I just used the tomato juice (which is essentially the same thing with some other added veggies – bonus!).  Then sprinkle in the Italian Seasoning, stir it up, & let it simmer. 
By the way, make sure to check those noodles if you forgot them… the kids, who help me "check" the noodles, usually don't let me forget!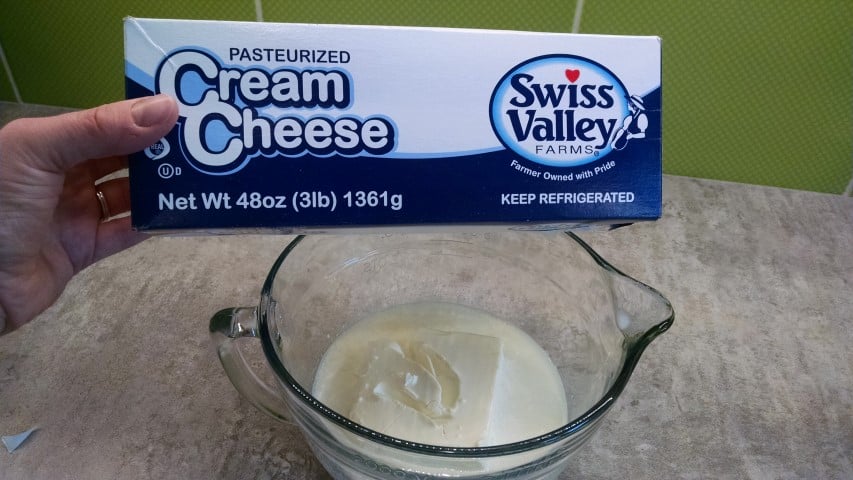 Now onto the good part… Put your cream cheese & milk in a microwave safe bowl & cook them on medium in the microwave, stirring every 90 seconds or so.   Because I doubled the recipe the whole way through it took my cream cheese about 5 minutes to melt.  But every microwave is different so keep checking & stirring at the 90 second mark!  Keep stirring it until you get a nice smooth sauce.
When I made this I had some of our farmer-owned dairy coop's cream cheese on hand… this stuff is amazing!  I don't always have it on hand to use but we love when I do!  It's so amazing that some of it travels all the way to Korea to make premium cheesecakes!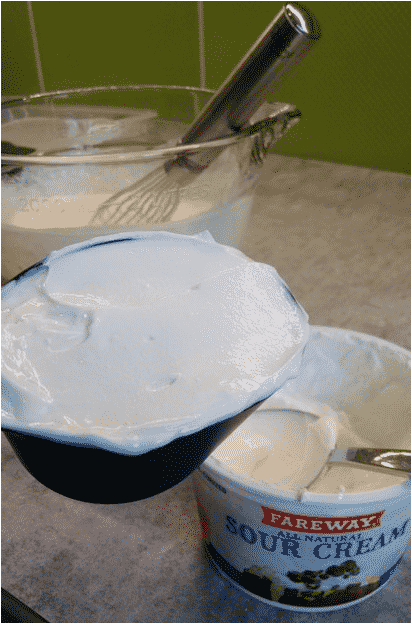 At this point you're going to want to make sure that your cream cheese mixture is in a big bowl or that the pan that your noodles were cooked in is big 'cause it's all going together!
If you have your noodles all drained, combine the noodles, the cream cheese, the sour cream, (just 1 cup) the Parmesan cheese and the corn starch because we're freezing it!  Stir well and be in awe of all the creamy dairy goodness!
 Next you'll have to decide if you're baking both right away or freezing one for later.  I suggest freezing one.  So that my freezer doesn't hold one of my baking pans captive until I bake the second casserole I line one of the pans with aluminum foil, freeze it, and then remove it when frozen to wrap up and store until it's time to bake it.  I'm using 9×13 casserole/cake pans but any 2 quart baking dish should work fine.
Now you're ready to assemble.  It's pretty easy – two pans, two layers in each pan.  First put half of the cream cheese/noodle mixture in each pan and then top with half of the ground beef mixture in each pan.  Finally step is to sprinkle the remaining Parmesan Cheese on top. 
Pop one in the oven for 20-30 minutes or until it's bubbly.  The other one, pop in the freezer until it's frozen solid (12-24 hours, I'm not exactly sure how long really… I usually forget until the next time I open the freezer!)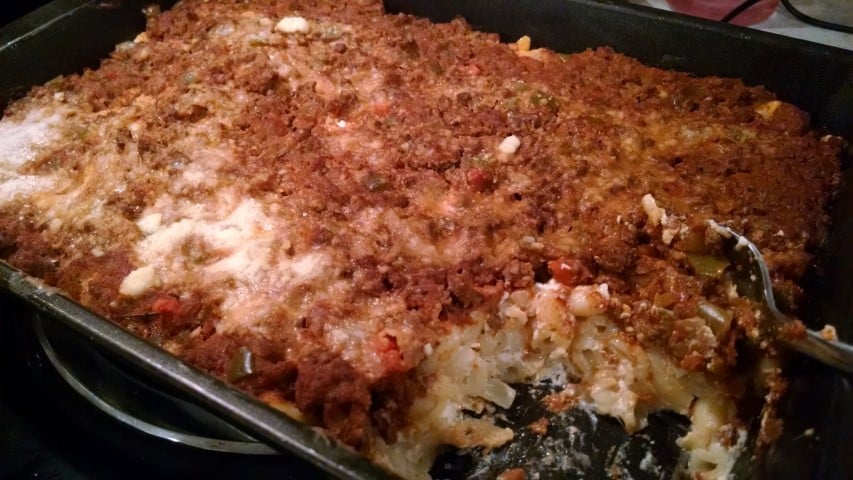 Then take it out, serve with salad or veggie on the side and of course a tall glass of milk!  And at our house probably some $1 Italian Bread from Walmart, which reminds us of our time living overseas in the bread basket of the world!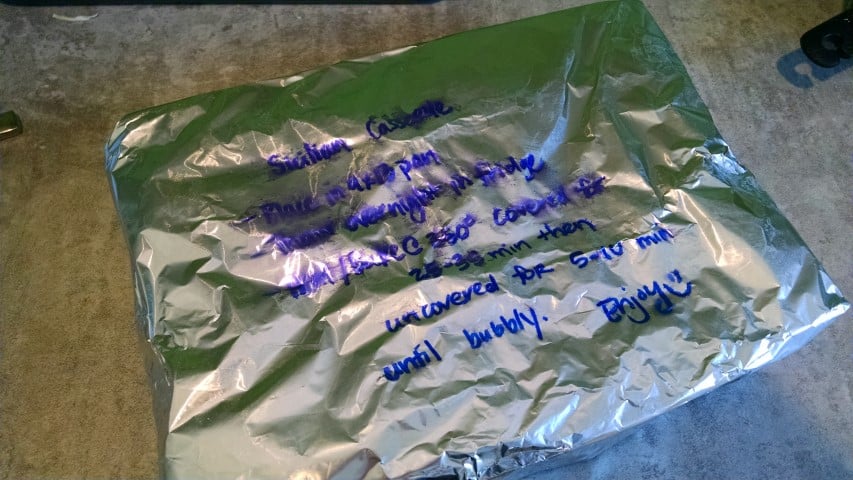 Once the second one is frozen, take it out of the freezer, take it out of the pan and wrap the whole thing in more aluminum foil and write on the top:
"Sicilian Casserole: Thaw for 24 hours in the refrigerator.   Bake covered 25-35 minutes and then uncovered 5-10 minutes until bubbly. "
That way you don't have to remember, plus if you end up wanting to drop off a meal to a friend or neighbor, it's all ready to go!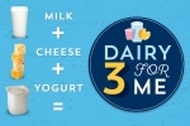 With all this yummy cheese, this casserole will help you get your
#Dairy3forMe
!  Three servings of dairy a day, including milk, cheese, & yogurt is so HEALTHY plus it's Dairy-licious! 
to get your 3 servings a day!  Let me know if you do!