We worked hard this week!  Here's the rundown on Week 8! 

A lot of the work this week you won't be able to see for much longer, but we should be able to feel the affects of it for as long as our barn stands! 

Monday started with the well being drilled, and before the end of the day, we had water (or at least foam!).  Dan says they use a biodegradable soap-like lubricant while drilling which foams a lot when they hit water.  Dave was certainly surprised when he headed up the drive to be met by a pile of soapy foam coming down the hill towards him.  By the end of the week the well was capped off and waterlines were laid in from the well to the barn.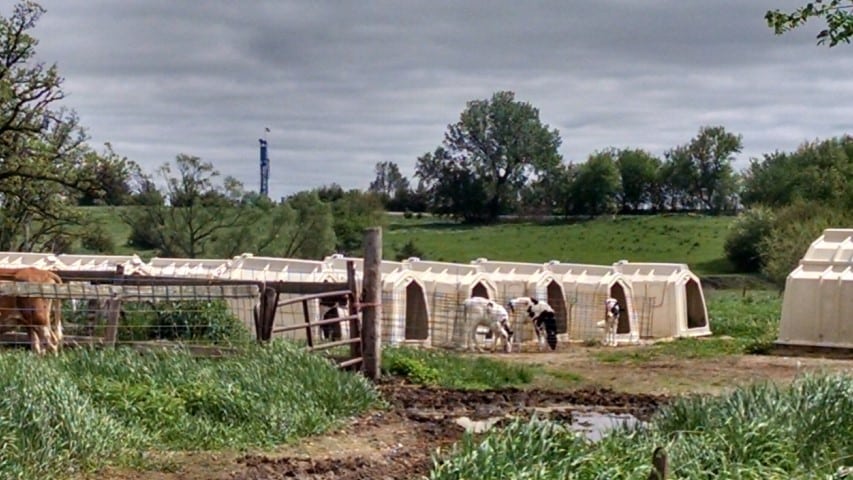 A great perspective as to where the new barn is located as compared to the current farm. The well driller is on the top of the hill with the flag flying high.
The other "underground" work that happened this week was planning, preparing, and laying out all the conduits for water, electricity, and other things that need to discreetly get from one place to another throughout the barn.  Dan's brother Matt helped him measure and layout where they'd all need to go as well as helping with a variety of other projects this week on the farm. 

And more concrete walls went up, with hopefully the remaining going up with week, if the rain stays away. 

We joined dad for a picnic snack early in the week and then brought lunch to our concrete crew on Friday.  It's always fun to see the progress.  Dan's aunt Sandy & cousin Josh were visiting yesterday and we got to show them around the site too!  Sandy remembers walking back by where we're now building on up across the road to the "north 40" to bring Grandpa Neil (her dad) lunch when he was out in the field working.  We're so thankful we can share this journey with friends & family!

This week is a shorter work week with chances of rain, which will hopefully stay away so we can finish the concrete work in preparation for the barn walls, roof, etc arriving the next week!  Happy Memorial Day!