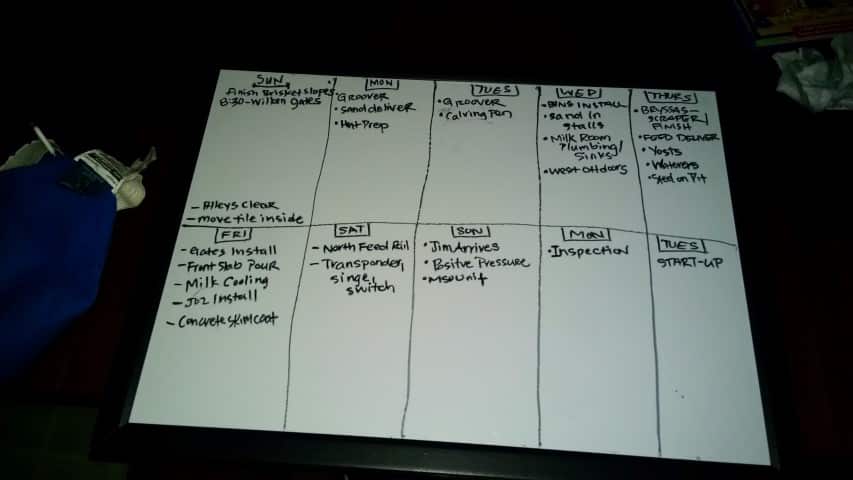 There's the plan… well there's a lot more details but as an overview that's what has to get done this week so we, I mean, our robot, can start milking the cows next Tuesday!  Even with a short Thanksgiving work week (for everyone else, not us!) we still moved full-speed ahead! 
The robot install was finished up with just a few little pieces to complete when they come back before we get started.  We have technology all over the place! 
The outside feed alleys are almost finished up with tile (the cows plate) being set into the concrete.  The equipment guys set the barn cleaner into it's place too. 
The electricians kept working all week long getting everything hooked up… it takes awhile to run conduit to all the places in the barn that need electricity.  Seriously, what would we do without electricity?
Along with other things Dan & his Grandpa Pete worked on getting lime into the cows beds and then packing it to make a "brisket slope" which helps the cows know where to lay down so their back end is still sticking just off the back side… which hopefully means their "pies" go in the alley and get scraped away!  Then comfy sand will get put in this week.   Dan also worked on getting the cow brush (their back scratcher) set up, gating plans, and probably about a million other things! 
The feed rail on the south side was also installed yesterday… so glad we work with folks who are willing to work Saturdays! 
The barn builders were back to put the finishing touches on the robot room as well as the door to the Guest House and the steel on the front porch.  Inside things are all painted and we'll move on to tile, trim, and cabinets!  The kids & I went to Ikea this week to get the cabinets… now we just need to put them together!
That's all the pictures we have and although Dan's planning to do some more work today my parents & brother are coming into town for Thanksgiving so I'll post this now and you'll just have to see what else happens next week! 
The cows are coming….