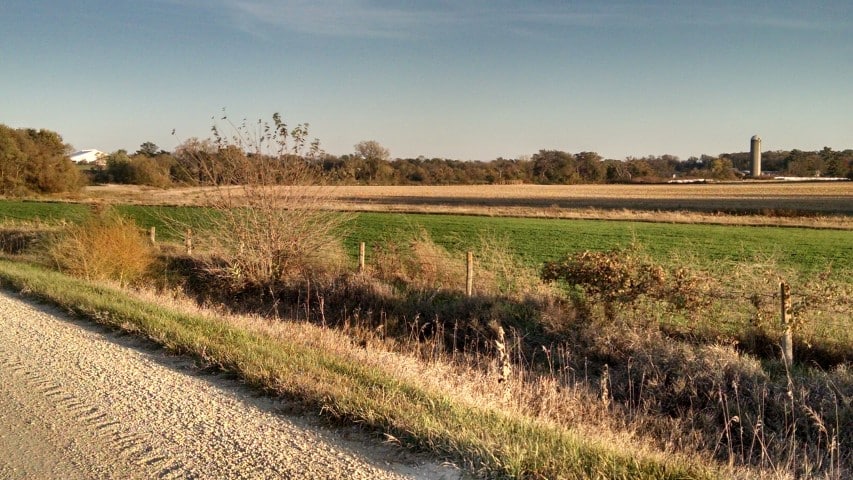 A view coming from the west of the new barn on the hill on the left and the current farm behind the silo to the right.
Things kept moving along this week so quickly that for some reason I'd forgotten to take pictures for some things.  So the kids & I ran up this afternoon to take some pictures for you (and really me!).
In the Guest House a lot more of the electrical went in, which really in pictures is just a bunch of wires and little plastic boxes on the wall.  I spent time talking things over with the electrician a couple different days to make sure we had it all done right. 
Our framers/finishers also popped over for a day to box in the duct work, make a mantel for future electric fireplace, move a wall & door, and put up a stair stringer so the electrician could keep moving.  We're so glad everyone is working together so well! 
On the barn side of things Dan spent most of everyday at the site between morning & evening milkings, which I expect will become more and more common as all the little things and details are coming together. 
On Monday more equipment for the milk handling side of things arrived.  The manure storage area was back filled to get that all finished up and Dan moved more fill sand into the barn to prep for concrete arrival.
Dan, the plumber, and the excavator played in the sand mid-week moving and laying plumbing lines underneath the sand and eventually underneath the concrete.
The concrete guys were finally able to get here on Friday and they got some good stuff prepped for concrete to be poured on Monday… things are going to look different fast!
The barn builders got some steel up on the east barn wall and then went to town the rest of the week getting the porch on the front and putting up the steel.  It looks great!  They even worked Saturday getting things set up for the chimney vents and putting up bird netting on the north side – love them! 
Looking forward to concrete getting poured and the electric getting finished up this week so we can be onto drywall and moving in soon!