Things kept chugging along this week, which is what we want.  It's hard to believe it's almost August! 
Dan headed up on the roof to talk with the building contractor on Wednesday and took the opportunity to show us all what you can see from the top.  Here's the views from roof…
A few other things got done as well.  The legs that the bulk tank will sit on were poured which means hopefully the bulk tank (where the milk is store after the cows are milked before it gets picked up) will arrive in about 2 weeks and then we can start finishing off the milk house and guest house! 
We also got another cow waterer.  The kids and I brought Dan a picnic breakfast this morning and got to watch the action up close!  And we met with our contractor for inside the guest house space to figure out more details there… it's all coming together!
I couldn't help making this image big… it makes it look even more real with steel on!  Most of the long sides won't have steel because they'll have curtains to allow better air flow and ventilation but the ends will and it looks so good!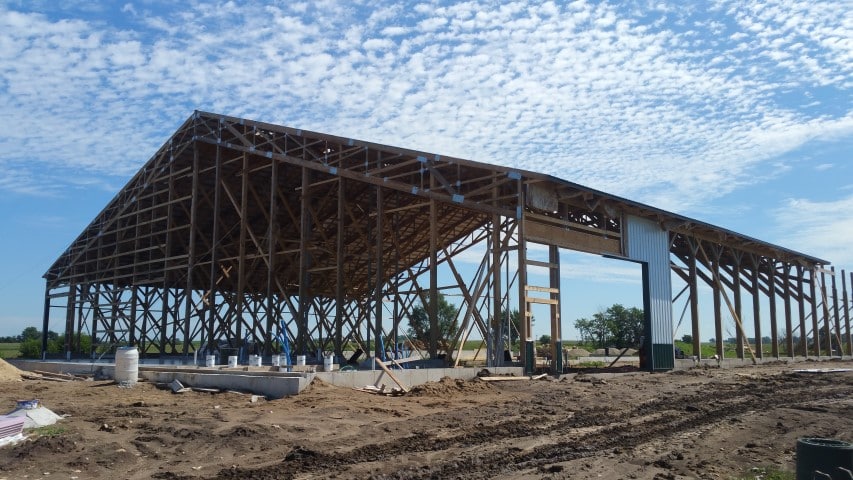 We also had visitors this week!  Dan's cousin from Colorado came through with a friend to see Dan's grandparents and they all paid us a visit, along with Dan's other grandparents too!  It's always fun to have visitors – we want to have lots of people visit over the coming years!  So start making your plans now!
Prayers would be especially  appreciated this week as things are going to be looking a little different for a few weeks.  To make a long story short Dan is having surgery to reattach a tendon in his ankle on Tuesday morning, which means he'll be immobile for awhile.  We know long-term this is the best option as it will only become harder to do the longer we wait and problems in your feet transfer to your knees and then back and we don't want that!  We're so thankful we were able to get scheduled for surgery fast and that all of our family has been so supportive.  I'll be helping at the farm more and doing daily check-ins (if not more) at the building site.  Thankfully we have a little lull at the moment of BIG things happening and Dan should be back on his feet and healed up for the end of building and getting things up and running. 
Until next time (when you get to see all 31 days of Dan's Ice Cream Month!)…