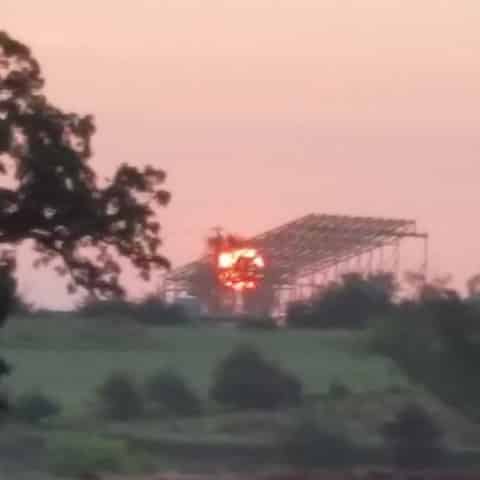 Dave took this one morning this week. It's a little blurry but still a very cool picture of the beginning of a new day at New Day Dairy.
Here are some pictures to show how the progress on the barn is coming.  While Dan's cousin was visiting he noted that we'd made a lot of progress since the end of April, when we had our "Groundbreaking Ceremony".  It was encouraging to hear since no matter what you're working on it almost always seems to go slower than you want it to (although fast to those further from the project/situation/child)!   
And on a very bright note, less than 2 weeks after our little setback we're further ahead than we were when it all came tumbling down.  There are different pieces built as they are still waiting for a few important unique items to arrive that were destroyed in the wind.  But our little setback was truly just that, little. 
Our last utility arrive this week… phone, and more importantly these days, internet! 
The manure storage area continued to progress by starting to build up the ramp that will go down into the pit to scoop it out a few times a year. 
The foundation wall in the milk house/guest house was also redone along with setting foam into the floor area.  The radiant floor heating tubes and then concrete slab should go in this week!
One of the last things to happen on Friday afternoon was prepping an area for our AMS (automatic milking system) or milking robot to arrive this week!  Eventually it'll go in the barn, but since it's not quite ready, for now we prepped a raised area to set it on when it arrives. 
And we had visitors on Friday!  Dan's cousin Jared and his family were visiting for Independence Day and came to see the progress.   I suppose boys will be boys and they decided to climb up the barn… I'm guessing it's not the first thing they decided to climb together! 
Did you know July is Ice Cream Month?  Dan does and he's making sure to eat ice cream everyday this month!  And he's tweeting about it too!  You can join him at #31daysoficecream.  Here's a sneak peak at what he's had so far….
How do you eat your ice cream?