The BIG (and ever growing) list of farm, cow, tractor, and dairy foods BOOKS
Do you and your kids love books?  Did you know that reading to kids and having books in your home is one of the greatest predictors of school success?  We're not just passionate about cows at New Day Dairy, we're also passionate about reading!
Every week we #readwiththecows in the Moo Crew – our Facebook Group full of families who love cows, tractors, and the farm – plus we share fun activities, kid friendly recipes, udderly funny cow jokes, name a calf together each month, and every month someone even wins a book we've read that month!
Join us in the #readwiththecows Moo Crew to help you give your kids the best – time reading books (and cows!).  We've read (or will be reading in the next month) all the books listed here so if you want to hear us read them before purchasing join our Facebook Group and then "search" for the title!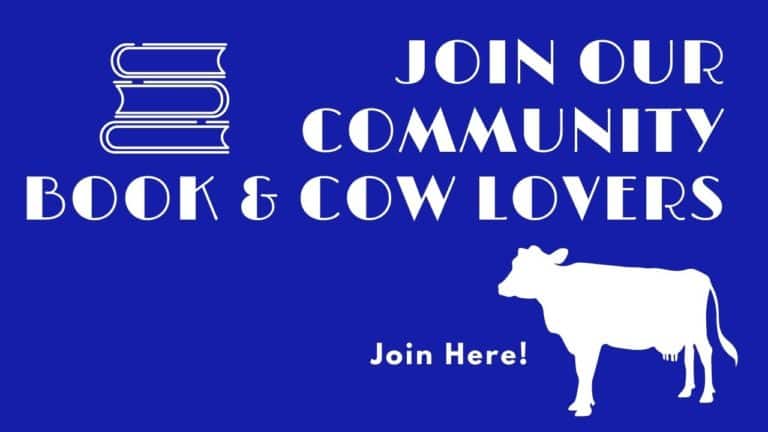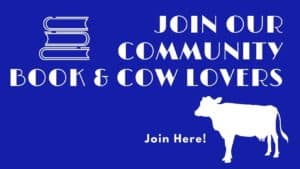 Find a book below you love?  Just click on the book cover & you can purchase on Amazon. (Disclosure: these are affiliate links – you don't pay more and we get a *little* kickback for introducing them to you).
Cows Galore:
A nostalgic story of growing up on a dairy farm in the mid 1900's.  The little girl remembers her cows & adventures of rope swinging in the hay mow and birthday parties in the barn.
Annalisa wants to know what it's like to milk the family cow.  BUT the cow gets upset when she won't give the cow a kiss.  Will she be willing to try something new to save her family?
Dog is rounding up whatever he can in his city apartment… and he's driving Bird crazy!  Bird tells dog to go find a cow… but dog doesn't know what or who Cow is.  Will he be able to find a Cow?
Tina the cow sets off to explore the world much to her sisters dismay.  Will they learn the joy of exploring?
Bluebell the cow can sing, but is going to the big concert halls really the answer?  Find out why sometimes cows just want to blend in with the herd!
Clorinda the Cow discovers she loves to dance but it the big city ballet life for her?  Find out in this cute cow filled book!
Just keep trying, that's what #DairymanDan does when a cow is stubborn… and that's just what tiny, tiny boy does in this story too!
Barnyard Friends:
Our cows don't have type writers, but Farmer Brown's cows do! They're asking for electric blankets and Farmer Brown thinks that's crazy!  What will he do in this classic book in the Click Clack series?
In this simple book, Cow goes in search of her "Moo".  Which barnyard friend has it?  A great preschool book with repetition and fun illustrations!
Find out what four animals say in four languages… but everywhere the cow says "Moo!"
Nursery Rhyme Fun:
Some of the songs we sing during #readwiththecows StoryTime come from this great book from a fellow dairy farmer!  Full of REAL farm photos from her farm these rhymes are both fun & educational!
If you love puns & nursery rhymes this book is for you! Full of silly puns that will make you smile the whole family will enjoy this book!  Set off on an adventure with Cat, Cow, and Dog to find Dish & Spoon!
Silly Books:
Little & Big Kids will love this book. Anyone can read it, even a cow!  That's because "Moo" is the only word.  The means the illustrations (and inflections in how you read it make all the difference!)
Cows do all sorts of silly things in this rhyming book!  But at the end of the day they come home to be milked by the farmer.
In this silly little comic book style easy reader the barn yard animals aren't sure why dog can only say "moo".
A classic children's book from Dr. Seuss all about sounds… including the cow's "Moo!".
Knock, knock…
Who's there?
It's Interrupting Cow.
Interrupting Cow wh—!
Will Cow ever find someone who appreciates her one and only joke?
Stories with Purpose:
In this one of our favorite series Cow learns many lessons about herself & who God is. One day she wanders a bit too far into the woods near the farm and finds herself lost.  Will she believe what everyone has told her about Skunk or discover that sometimes you have to get to know someone before judging them?
The first in this series these three toy friends make a new friend, although at first they were quite unsure about him!  A great story for any child who has imagined their toys coming to life!
Cows aren't suppose to be purple so Cow sets out to change her color.  A great story to remind us that it's what inside that counts and how we're each unqiue!
Tractors:
Not so very long ago farm work was done by horses.  When Tractor Mac arrives at the farm Sibley the horse gets to retire, but like most farmers he doesn't want to retire!  Eventually Farmer Bill discovers that for some jobs are too hard for Tractor Mac and Sibley comes to the rescue!
Tractor Mac doesn't understand why he's no longer working in the fields.  What is he doing sitting here cutting wood? Before long he finds that not only can he help grow crops he can also build barns!
Christmas & Holiday Books:
Part of the Click Clack series, Duck gets into a predicament and needs a little help on Christmas Eve… a simple yet fun Christmas Book.
When a snow storms threatens to stop the Christmas Eve tree lighting festival, can Tractor Mac save Christmas?  One of many delightful books in the Tractor Mac series!