How do farmers take care of their animals in the winter?
Most winters we have a cold spell.  Not just cold, but REALLY cold!  Like -10 degrees cold overnight here in Iowa!
My (Lynn's) mom called the other night.  Do you know who she was concerned about?  Our baby calves.  I think she knew we were keeping warm but didn't know what we do to keep the calves warm.  Maybe you are wondering the same thing – how do we keep our calves warm in subzero weather?
Calves are Born Inside
One year Era the cow had a baby calf late one frigid Saturday night.  We aptly named her Extreme because of the extreme cold!  Since our cows calve in the maternity area in the barn year around (warmer in winter & cooler in summer!) she was born into temps in the mid-30's which cows don't mind at all.  Era licked her off as soon as she was born & then #DairymanDan made sure to dry her off even more with a towel.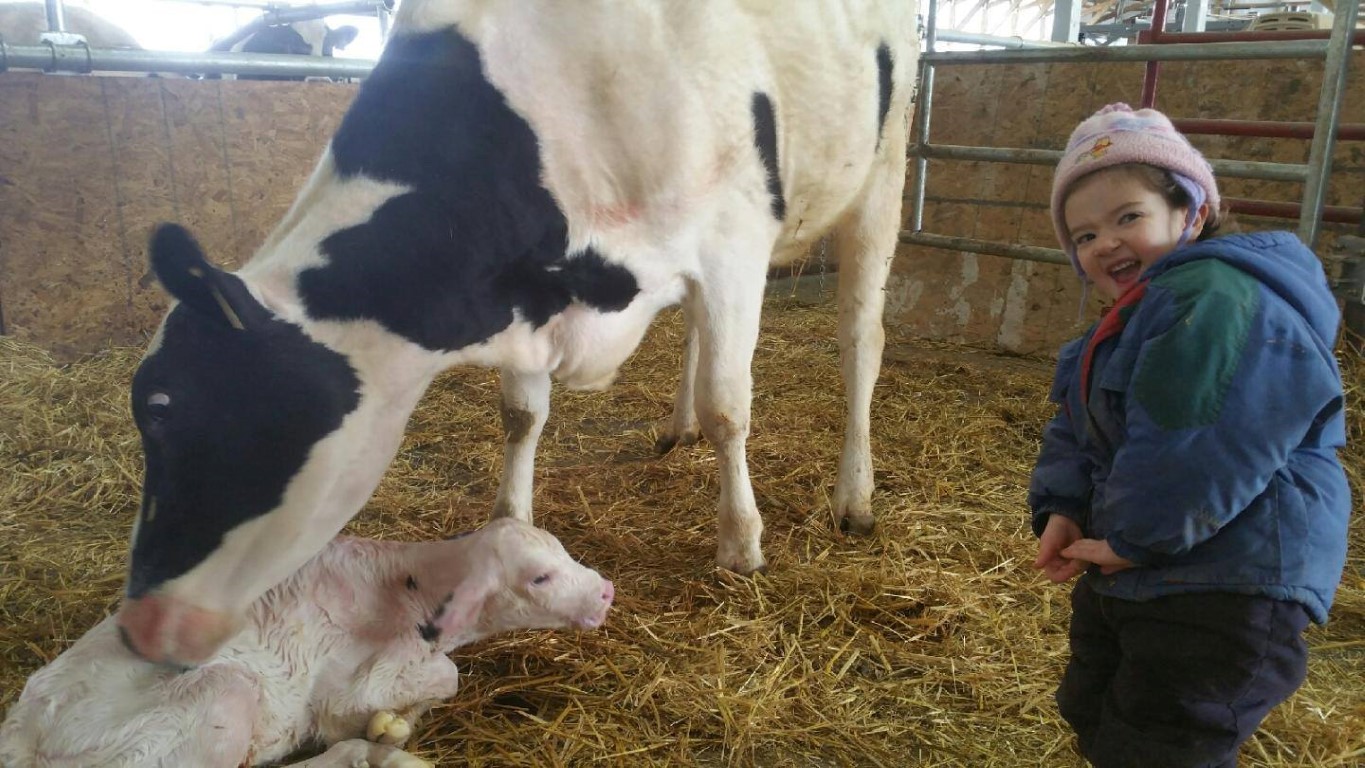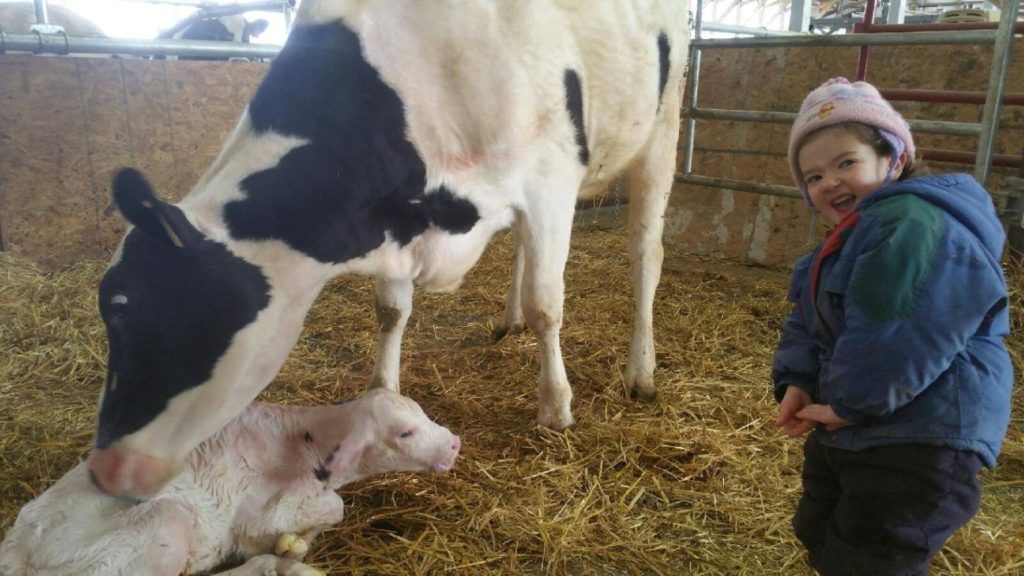 Dried Off, Jackets On, Nestled In
Extreme then got to stay in the barn for a bit more than 24 hours to ensure she was completely dry before heading out to the cold.  When #DairymanDan brought her out he made sure she was nestled down & cozy in her cornstalk bales. During the coldest weather our littlest calves even get to wear "jackets" for their first week or so.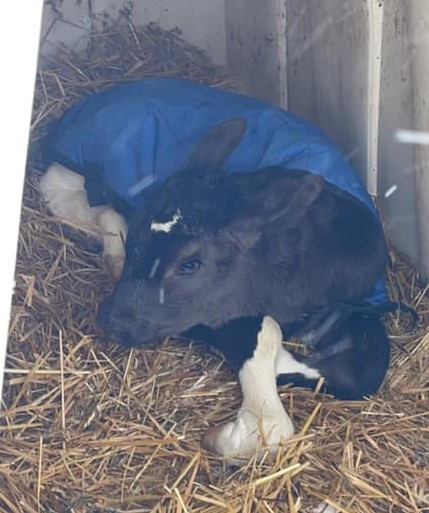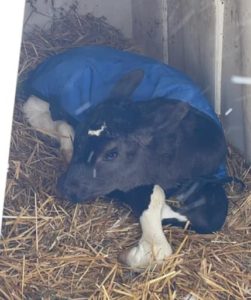 Warm Water & a Close Eye
Calves are born with something called "brown fat" which helps keep calves them warm.  We strategically place our huts facing south so that calves are protected from the north wind.   Although Pam, Dan's mom, always keeps a close eye on each of our calves, in cold weather she pays even closer attention, as a skipped meal or any sign of illness can quickly become fatal. The calves' water freezes throughout each day so we make sure that they get a bucket of warm water in the middle of the day.
You might wonder why we don't bring them all inside, because I wondered that at first too.  Bringing them inside, especially if it's not VERY well ventilated, can cause higher incidences of pneumonia & other sicknesses because they're sharing stale air with each other.  Over the years Dan & his parents have learned that even in extreme cold we can take better care of our calves by caring well for them outside, even if it means we have to work out in the bitter cold!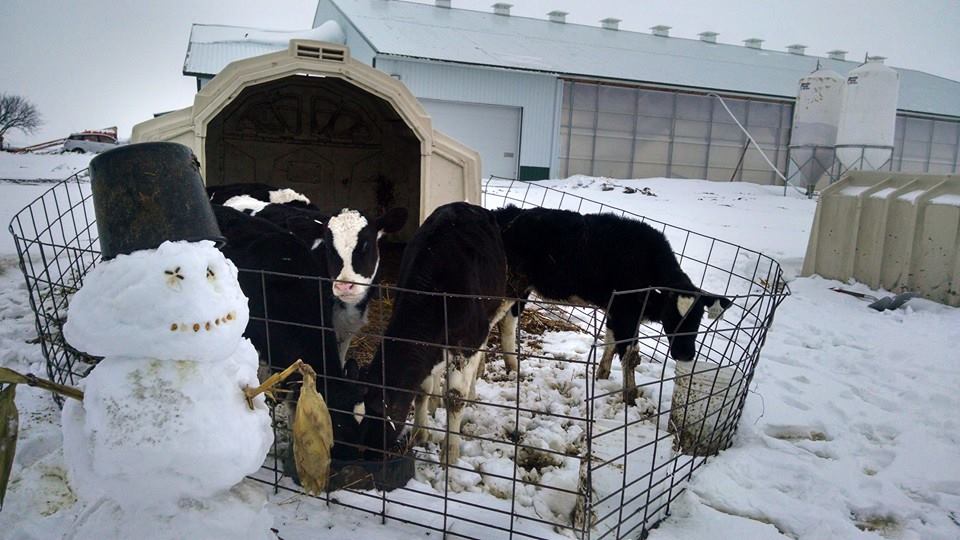 We do our best to keep our calves warm but we are always look forward to the extreme cold snap breaking.  Extreme cold does create more work to get machinery running, care for our animals, & stay warm ourselves!
No matter the season or the temperature we're here caring for the cows & calves.  That means no matter the season you can visit and #sleepwiththecows.  We'll see you soon for your Introductory & Farwell Tours!