As many bloggers do, I wrote this post over the past few days and put the final touches on it this morning before the kids woke up, expecting to post it sometime mid-day.   But at about 7:35am this morning things changed.  As straight line winds blew through our area, the start of the barn walls and trusses were toppled.  It deserves it own post to truly show the damage and that will  be coming but I didn't feel right about posting 10 reasons we love dairy without full disclosure that it comes on a hard day. 
We're obviously disappointed, sad, and frustrated but thankfully as I note in reason #7 below, days like these are to be expected as part of life.   I was reminded this morning while singing & dancing with the kids to the classic song "He's Got the Whole World in His Hands" that God does indeed have "the wind & rain in His hands".  Why He allowed them to blow through our partially built barn today is not our's to know or understand.  Someday looking back with perspective maybe we'll get some insight but whether or not we ever understand," why?" we have faith that God is good and have hope knowing that He is with us going into the future. 
After some pictures, we'll be on to my original post; well almost, I did renamed it to "10 reasons we STILL love dairy" because they are all still true, even on the tough days.
June is Dairy Month as I mentioned early this month. And that means celebrating what we love about dairy – the foods, the animals, the people, the lifestyle and more! Today I'm celebrating 10 reasons I love DAIRY FARMS….
D elicious food
A lways working
I ndividual cows
R elationships
Y ou
F amily lifestyle
A dorable calves
R obots
M ultitude of practices
S imple, pure MILK
1) DELICIOUS FOOD:
Now really, there are SO many ways to enjoy dairy…. a quick cheese stick snack (my kids favorite), protein packed Greek yogurt for breakfast or a sweet ice cream treat, in an appetizer cheese ball or as part of so many delicious main dinner recipes! Which reminds me that I want to remind you to check out the new Dairy Good Cookbook for lots of great delicious dairy-filled recipes!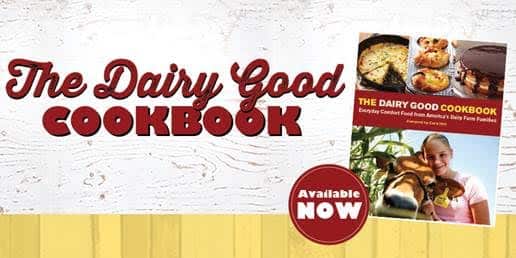 2) ALWAYS WORKING
Now you might ask why always working would be something I love about dairy, since that obviously means that my hubby is always working (not to mention me and my in-laws!). Dairy farmers have an amazing work ethic, it's hard to be a dairy farmer without one. God created us to work – and what a joy it is to work with His creatures and His creation each day! If we didn't work hard we wouldn't have the joy of seeing problems solved, challenges met, and jobs completed. And thankfully we can and usually do have fun while working hard!
3) INDIVIDUAL COWS
One of the reasons I love dairy farming is that each cow gets treated as an individual. On our farm each cow gets a name and we make sure we record when she's born, her individual markings (did you know each cow has a different pattern, just like our fingerprints are different?), any medical attention she received, how much milk she makes, and soon with our robotic milking system a whole lot more information! But more than just a record, Dan knows our cows and their own unique personality. Some are timid, some feisty, some bossy, some curious, and a whole bunch of other traits!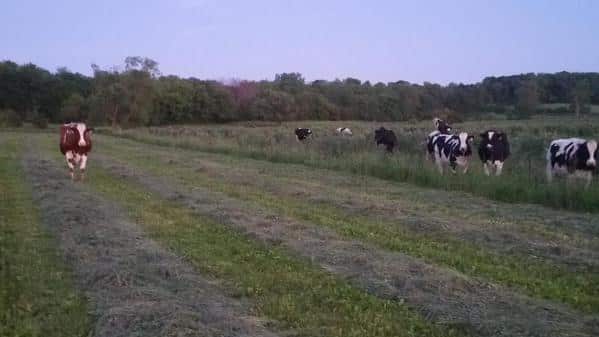 As our only Red & White Holstein cow, I think Sugar knows she's special. She decided that she didn't need to stay in the pasture with the other cows and headed on over to the freshly mowed hay!
4) RELATIONSHIPS
I've been amazed as I've been introduced over the years to the dairy industry at the wonderful relationships that dairy farmers have with each other. There are independent family-owned dairy farms all over the United States but they collaborate & depend on each other for a lot! There are formal associations & networks for all sorts of various aspects of dairy but as we've been going through the building journey I've discovered something I love more!
As we've considered different equipment, ways of doing things, types of buildings, and more we've had the opportunity to call and talk with and go and visit a variety of farms to see how they do things. Dairy farmers are almost always willing to show you how they do something, tell you what works and what they'd do differently, and take time out of their busy day to talk about what they love -their dairy farms. It doesn't matter if you sell you milk to the same coop or if you have the same breed of dairy cow or if you have a different brand of milking equipment, the attitude is that "we're all in this together!" I'm amazed & thankful for that!
5) YOU
It may seem rather silly but we really do love you, our customers, those who consume our delicious dairy foods! Obviously without you we wouldn't be able to stay in business but more than that, you really do love dairy and often want to know more about dairy and our farms. We're looking forward to hosting many guests through our Guest House who want to experience a real working dairy farm up close and find out where their delicious dairy foods come from!
6) FAMILY LIFE
I've talked about this before but we love that we get to work and play with our family! And we work and play with just about everyone in our family. We obviously work with Dan's parents on the farm, and our we love that our kids get to come along and are learning along side of us each day, and will continue to as they grow! But it doesn't stop there. Dan's grandparent's are still involved, interested, and actively helpful in many aspects of the farm! And even my parents are getting involved in our new building and farm project from solar panels to decorating the guest house! And we love that we,as husband & wife, get to work together. Not all farms are like that, but we feel blessed that we get to partner not only in raising a family but that we get to do all of life together!
7) ADORABLE CALVES.
Beautiful Sunrises & Sunsets. Watching the corn sprout. Seeing a new calf emerge. You can experience God's creation in a variety of ways, but we feel like we get a front seat to seeing it all around us. We experience the heartbreak of life loss and days we'd prefer the weather to change as well, but to embrace the beauty God's created we must also learn to embrace that which we don't initially find as beautiful. Our's is not to wonder why but to worship Him who created it!
8) ROBOTS
Now not all dairy farms use robots but having a robot to help milk our cows in our new barn will be revolutionary to what Dan does each day. Instead of spending a lot of his time milking the cows, he'll be able to transfer that time to managing all the aspects of the farm, ultimately allowing him to provide better care for our cows! And since it won't be as physically as hard on his body he should be able to do what he loves much longer!
9) MULTITUDE OF PRACTICES
It may make sense that this follows robots since currently relatively few dairy farms have automatic milking machines or robots. It's amazing to me the diversity of how one can dairy farm – from the number of cows you milk, how you milk the cows, the type of cows (or even goats!) you milk, where you house the cows, what you feed the cows, what your milk becomes – milk, butter, cheese, and more. Every dairy farm is unique in it's own way – there is not a "one size/style/etc fits all" in dairy farming! Yet, for the most part, #4 Relationships is still true – in the end we're all dairy farmers!
10) SIMPLE, PURE MILK
That's right the last thing I love about dairy is just that – milk. Sure you can enjoy it in a huge variety of ways, but it's amazing that a nice cold glass of milk can give you so many of the nutrients & vitamins you need each day. God created an amazing creature in the dairy cow that allows it to naturally turn what it eats into something I can, and really should, drink everyday.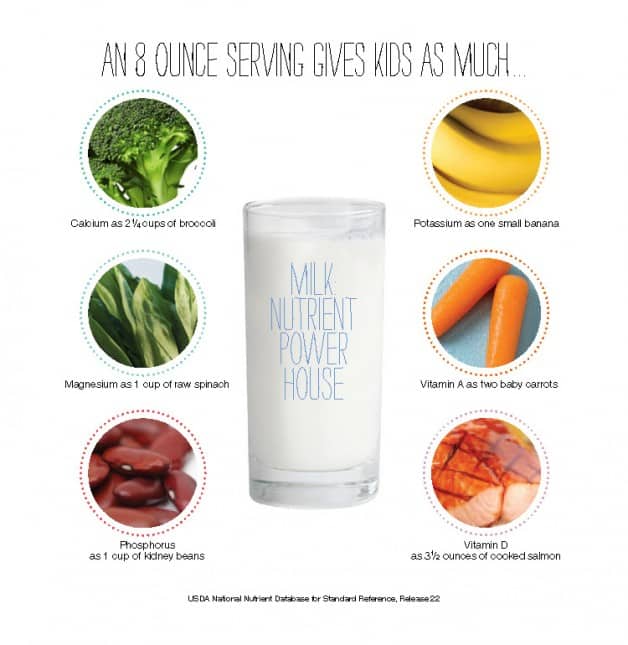 Those are my top 10 reasons that love dairy farming, but I'm guessing there are many other reasons to love it.   And it turns out that one of those dairy organizations, the National Dairy Council is turning 100 years old this year. To celebrate Midwest Dairy is collecting 100+ reasons to love dairy! So if you want to find out why other dairy farmers love dairy farming check out the other 90+ reasons on
Midwest Dairy's blog
!
  Why do you love dairy? Share it in the comments!