An Easy Extra Special Breakfast: Apple Cinnamon Oatmeal a la Mode
In 2015 I interviewed Dan's Grandpa Pete, the biggest ice cream lover I know, in honor of Ice Cream Month. He likes to eat ice cream with all sorts of things including this recipe, his Apple Cinnamon Oatmeal a la Mode.
Our family had the privilege of living with Dan's Grandpa Pete & Grandma Mary for a few months after our RV was frozen solid a few winters ago.  If Grandpa Pete was the first one up in the morning we'd often get treated to this delicious oatmeal for breakfast!  I don't think exact measurements were ever used so I just guessed, that way you can easily recreate it yourself!
Apples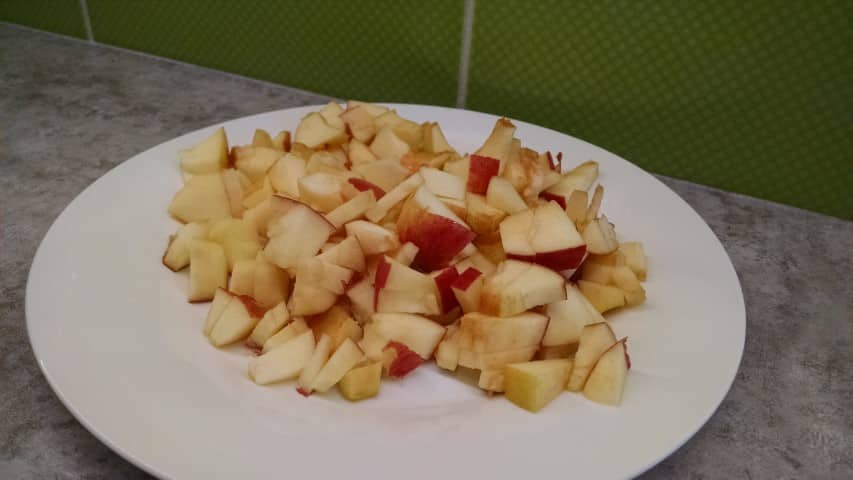 Start by chopping up your apples into little pieces & tossing them in a big microwave safe bowl.  I leave the apple peel on when I chop it up for some added fiber goodness!
Oatmeal & Milk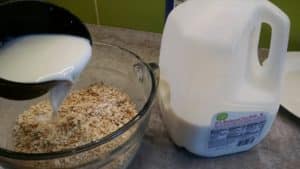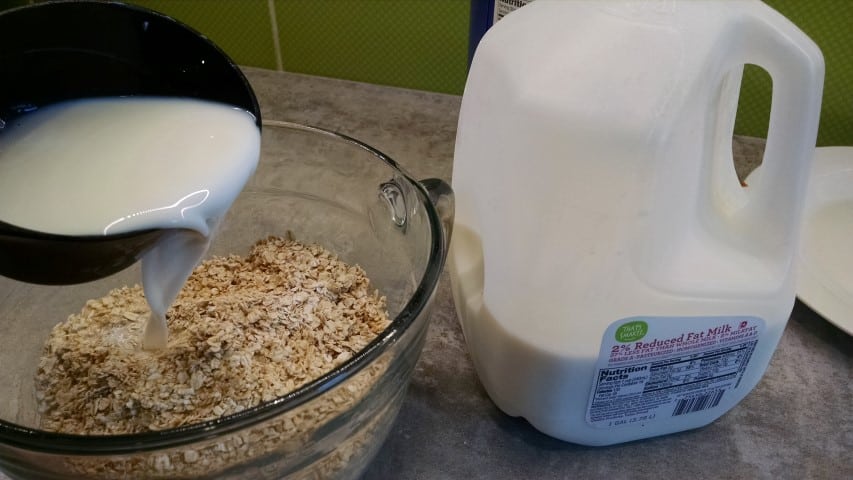 Next toss your oatmeal into the same big bowl and add the milk.  ** You do make your oatmeal with milk, right?  If not, seriously consider starting now.  Did you know that by making even a small instant packet of oatmeal with milk instead of water you're adding 4 grams of protein to your breakfast?
Stir the oatmeal, apples, & milk together and then microwave it for 2 minutes on high.  Then check & stir every minute until it's the consistency that you prefer.  Oatmeal is actually one of the few areas that #DairyManDan & I have differing  opinions.  #DairyManDan likes stick-to-your-spoon-and-roof-of-your-mouth thick oatmeal and I prefer a more creamy smooth "runny" oatmeal.  Since I was cooking & it looks better for pictures, it took our oatmeal a total of  5 minutes to reach perfection.
Cinnamon & Raisins
Then stir in your cinnamon & raisins before scooping into individual bowls.
a la Mode: don't forget the Ice Cream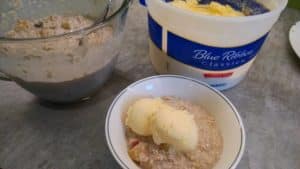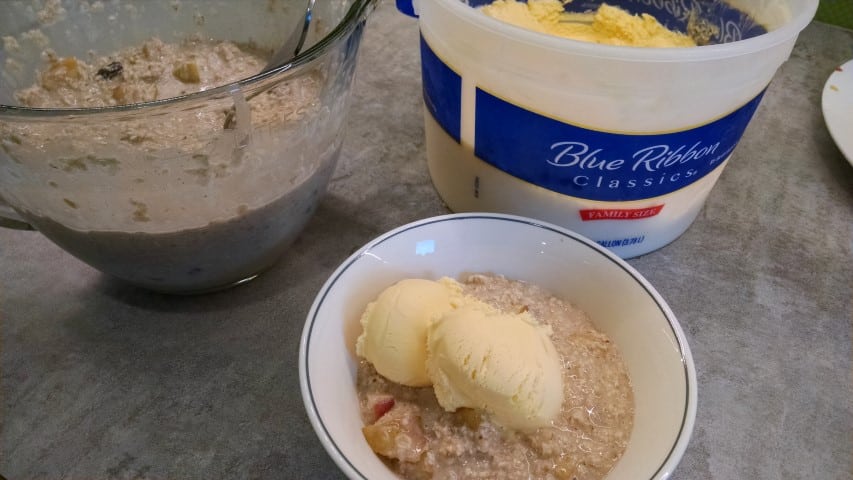 And of course, the most important part comes last.  Top each of those bowls with a scoop of vanilla ice cream, which will, of course, start melting right away creating even more creamy goodness for breakfast!   This is where you can use discretion & determine how sweet you want your (or your kids') oatmeal.  All that's left is to enjoy!
Do you have any unique ways you enjoy ice cream? What about on pancakes?  Another Grandpa Pete specialty!
In the winter months enjoy oatmeal (made with milk) as one of you DIY Continental Breakfast options when you #sleepwiththecows at the GuestBarn!  And if you add-on a Float Party you can make it a la mode with your left over ice cream!
And because everyone loves to SCREAM for Ice Cream here are some other dairy farmers sharing their favorite ice cream recipes, stories, and more!  Check 'em out!